Popular singer and reality star Tamar Braxton is showing some sisterly love by helping to promote the album of her big sister — who also happens to be an R&B legend — Toni Braxton.
Tamar posted a stunning picture Toni stunting in a very risqué dress. It is part of a promotional package to market Toni's upcoming CD, Sex and Cigarettes, that will be released on March 23 and features hit songs long like "Deadwood" and "Long As I Live."
Toni is draped in a sheer lace dress clutching a cigar and imbibing wine.
Sister Tamar captioned the photo "LIVING LEGEND." Toni has thus far released nine albums, sold over 67M records, and has picked up seven Grammy Awards while raising two sweet boys.
Fans love the photo, but some raised objections with Toni Braxton smoking.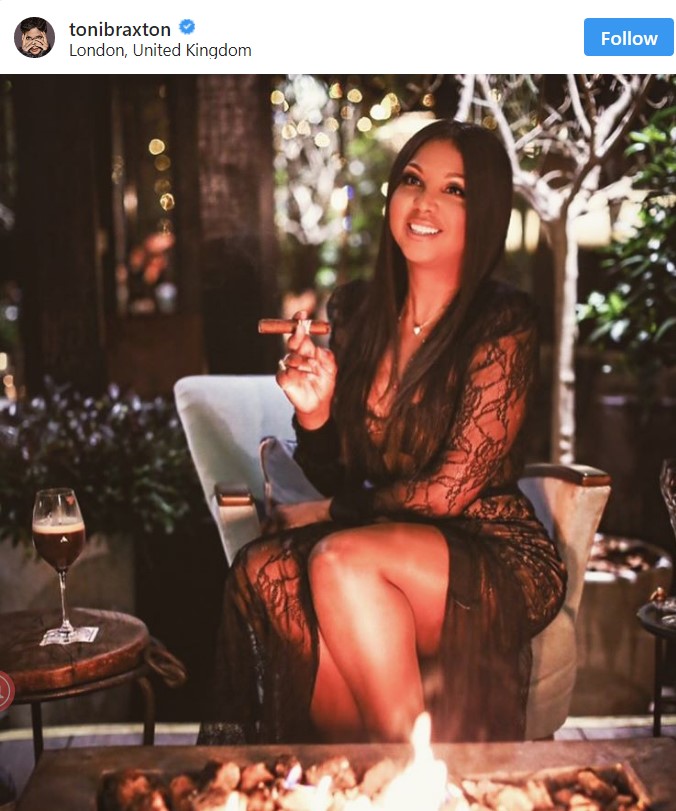 One fan said: "Simply Marvelous Darling. Is that a cigar in her hands???? Toni??? Toni, please don't smoke cigars, they're so bad for your health, heart! The tobacco will keep your body from healing! Braxton, it is an ultimate sin to even mix the words cigarette & cigar in the same phrase. You look FABULOUS though! Continued blessings."
Another person stated: "I have this lady from around the way who have called me Toni instead of Moe for years, so one day I asked Ms. Nina why u call me Toni, never imagining she would reply bc of this Woman of many astonishing words ( #ToniBraxton).I love how you sisters are so loving and appreciative of each other. Leave Toni alone she can hold a cigar and have some wine.Go on girl, live your best life. I feel so read though on Long As I Live, such a beautiful song. I can't wait for the album."
Someone else wrote: "Toni if u nasty.The very Living Legend..love her so much my biggest fan crush, and I'm not gay..but I've grown to be u Tamartian Legend.tell Ms. E I love her and the rest of your family..ooouuuu."