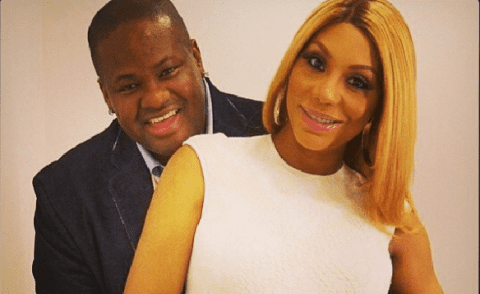 Chapter 24 of the Tamar Braxton-Vince Herbert divorce saga finds the pair visiting "The View" to clarify their positions and repel the rumors. The singer was already a guest co-host on "The View's" Friday episode.
Many fans subtly or boldly accused the music industry couple of manufacturing drama in order to drive up the ratings on their already popular show, much the way some accused T.I. and Tiny Harris with their alleged split and makeup session.
Braxton told longtime host Joy Behar she could only wish her drama was not real so she sought cover behind the truth.
"But in this situation, I have no reason to lie about my marriage and the things that are happening in my marriage for ratings. I think that's disgusting and I would never sell my soul to the devil like that. It's not that serious," she continued.
Braxton also said that she has an everyday marriage in which all kinds of things can happen.
The star of "Braxton Family Values" shared that she and her husband are undergoing counseling to address their union woes. She also admits that she filed for divorce and that the two do not live together currently.
Herbert joined his estranged wife later in the show in order to refute claims that the music manager of Xscape3 impregnated another woman.
This was the first time he spoke out about their marriage on television.
"There's not [a bun in the oven], and all the other allegations are just not right," Herbert said.
"I'm just not that kind of person. I love this lady with all my heart, I love my family with all my heart, and I will never stop fighting for my family and trying to make it great," he said.
Check out the segment in full below:
https://www.youtube.com/watch?v=d3PMBPw74cc
Source: YouTube/ABC/The View