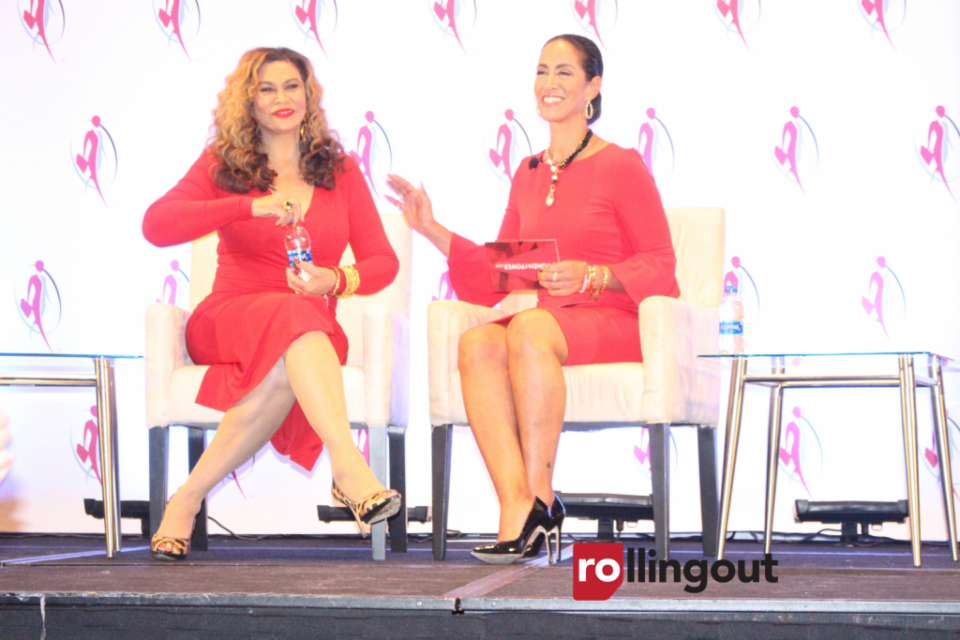 Tina Knowles-Lawson is currently living her best life at 64. Recently, she was one of the phenomenal featured speakers at the 2018 Black Enterprise Women of Power Summit, which was held in Orlando, FL over the past week. She had an open and honest fire-side chat discussion with the lovely Caroline Clarke, the editorial director of the Women of Power Summit, and host of "Women of Power TV," where they discussed Relevance and Resiliency: A Conversation with Tina Knowles-Lawson. The session was hosted by AARP, for whom Knowles-Lawson is now a national spokesperson.
The talk, which was moderated by Jo Ann Jenkins, CEO, AARP, was presented in front of a standing room only crowd of approximately 250 women, and Ms. Tina wowed the crowd with her beauty, candid and comical answers, and zest for life at 64 years old.
She spoke about family, her famous daughters and how she's evolved as a woman. She even spoke about how incredible it is to age with grace. When asked about aging, she went on to say how she's having the time of her life at the age of 64.
When the beautiful Clarke asked Knowles what she would tell her 21-year-old self, Knowles-Lawson responded, "At 21? I was having the time of my life! I probably would tell myself to enjoy my parents more because I lost them [when I was] 26. Other than that, I was living my life."
When asked what she would tell her 41-year-old self, things got a bit more interesting and revealing.
"Oh, yeah! I wish in my 40s I knew that some people that are in your life don't deserve to be there. And I think I would've been more selective. [There were] friends [and] relatives that I felt like I had to take care of because I was a little more fortunate than them. And just taking on everybody's stuff and not spending time loving and nurturing myself. So, I wish I could go back [to] 41 because I would've taken better care of myself.
"At 58, I literally started over, my life. I moved to a new city, I got me a new man, I got me a new car. I'm having the time of my life at 64!"
She also spoke about purchasing a Porsche for her 60th birthday.
"For my 60th birthday, my daughter called me and she was like, 'You go and get a Porsche because you're going to be 70 still talking about you want a Porsche!' So, I got this Porsche, and I moved to L.A. I moved back [to LA] at 59 [years old], and I got a new man, I had my new car and my new house, so I started my life over. And even with me doing some of the things that I do now, I would never have done them because I spent my life hiding. When I say that, I [mean] my life was my kids. So, I never wanted to do anything to embarrass them and I never wanted to do anything to disappoint them. I kept saying, 'It's not about me.' But now it's about me!"
Check out the rest of Knowles-Lawson's fireside chat with Caroline Clarke on @rollingout's FB page.