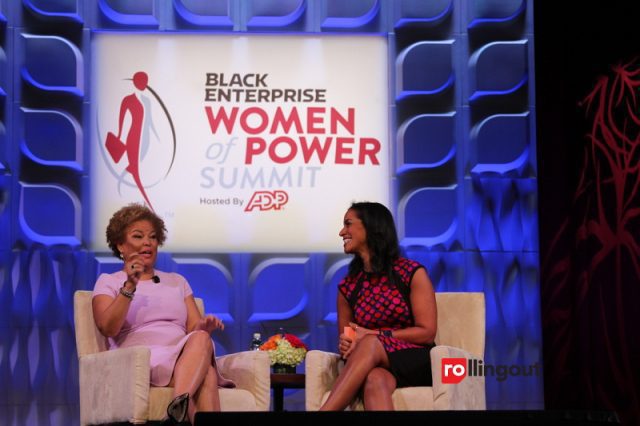 It's Women's History Month, a time to celebrate all the amazing accomplishments that women have made in the past, are currently in the process of making and will continue to make in the future. It's also a time to celebrate women of color at the 13th annual Black Enterprise Women of Power Summit being held Wednesday, March 7 through Saturday, March 10 at Disney's Yacht and Beach Club Resort in Orlando, Florida. The summit is a professional leadership conference designed especially for executive women of color and what better month than Women's History Month would a summit of this magnitude be held? The summit, which will bring together over 1K influential women from across the country, is slated to highlight hundreds of brilliant and intellectual female minds and is sure to be beyond powerful.
This event is undeniably one of the best platforms to showcase examples of powerful women of color, who choose to live in greatness. These women are industry leaders who have made it to the upper echelon of their respective fields, and they are all convening during this one summit to share their wisdom, knowledge and experience with participants of the conference.
Rolling out will be on the scene, and we've identified three top reasons this year's conference will be outstanding. Check it out.
1. The amazing speakers:
Caroline Clarke, editorial director, Women of Power Summit,
Richelieu Dennis, founder and chairman Essence Ventures,
Iyanla Vanzant, New York Times best-selling author, host "Iyanla: Fix My Life," OWN,
Tina Knowles-Lawson, fashion designer, entrepreneur and philanthropist,
Chaka Pilgrim, head of film and TV, Shawn Carter Enterprises,
Mia Phillips, director brand marketing strategy, Toyota Motor North America,
Thasunda Duckett, CEO Chase consumer banking, JPMorgan Chase,
Michaela Angela Davis, image activist, writer, creative director and cultural commentator MAD Free,
And so many other talented and powerful women leaders.
Need we say more? Conference attendees will gain access to and learn from the highest level of women industry leaders in their respective fields. They'll learn how to optimize their potential for professional growth and advancement, tricks of the trade and obtain valuable firsthand experience gleaned from these powerful women.
2. The powerful workshops, sessions and restorative activities:
There will be compelling, interactive workshops and sessions that encompass corporate trends, leadership and management skills, women-in-business-issues, and other interesting topics, as well. There will also be restorative activities that include morning workouts, one-on-one coaching sessions, entertainment, and much more. Some of this year's most intriguing sessions include:
#MeToo, Now What?,
Enough is (NOT) Enough: Asbury A-C Yes, We Can Close the Pay Gap!,
An Intimate Conversation with Iyanla Vanzant,
Anatomy of a Corporate Athlete: How to Build and Sustain a Championship Level Career,
How to Stay Woke and Stay Employed,
Lit: How to Sit in the Hot Seat and Not Get Burned.
3. The esteemed Legacy Awards Gala honorees
Several trailblazing women who've defied the odds and changed the world will be honored. The honorees include:
Carmen De Lavallade, legendary dancer, choreographer, actress,
Donna Brazille, veteran democratic political strategist, author and adjunct professor,
Edith Cooper, senior director, Goldman Sachs Group,
Jayne Kennedy Overton, ground-breaking sportscaster, actress, model and philanthropist.
This is definitely one powerful summit you don't want to miss.
For more information on the conference, please visit https://www.blackenterprise.com/womenofpowersummit