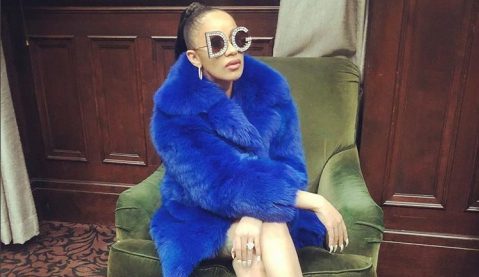 Cardi B is prone to Twitter tirades. This latest explosion of thought was aimed at the federal government's appropriation of her tax dollars.
Like many in the upper tax brackets, Cardi B is incensed with how the government uses her tax money. But mostly, the rap princess is irate at just how much Uncle Sam takes out of her paychecks.
She stormed onto her Instagram page and let loose with her frustrations regarding the tax season and the fact that she has been assigned to the 40 percent tax bracket due to her phenomenally successful 2017.
"The government is taking 40 percent of my taxes, and Uncle Sam, I want to know what you're doing with my f***ing tax money," Cardi began her stream of rage.
"You know what I'm saying? When you donate to a kid from a foreign country, they give you updates on what they doing with your donation," Cardi continued.
The "Bodak Yellow" rapper specifically pointed out that nothing seemed to get done in her hometown of New York.
"The streets are always dirty, New York one of the dirtiest cities in America. What are all of you doin'? There are rats on the damn trains. I know you ain't spending it in no damn prison because all of you be giving n****s two underwears, one jumpsuit for like five months," she barked onto Instagram.
Cardi's tirade went viral and even caught the attention of a Los Angeles television station that turned it into a news story, scaring the "Bartier Cardi" femcee to her core.
"I can't believe my video made the news😩YA watch out for me I'm scared!I don't want GT coming o for me," she said on Instagram. "😥A lot of people responded to this video like they spend our tax money in welfare ,SSI ,military but how do you know tho?where is the prove? My neighborhood still look like shit!They can't even afford to put Metal detectors in ALL the schools but we have money for a wall She continued asking 'What is ya doing with my f***ing money? I want to know, I want receipts, I want everything! I want to know what you n***** doing with my f***ing money. What is you doing with my f***ing money? Uncle Sam, I want you to know what the f*** you're doing with my motherf***ing money!"
Afterwards, Cardi tried to allay the fears of her fans, saying in another IG post. "Don't mind me thoo I'm just a ex stripper with bad grammar and heavy accent 🤷🏽‍♀️"