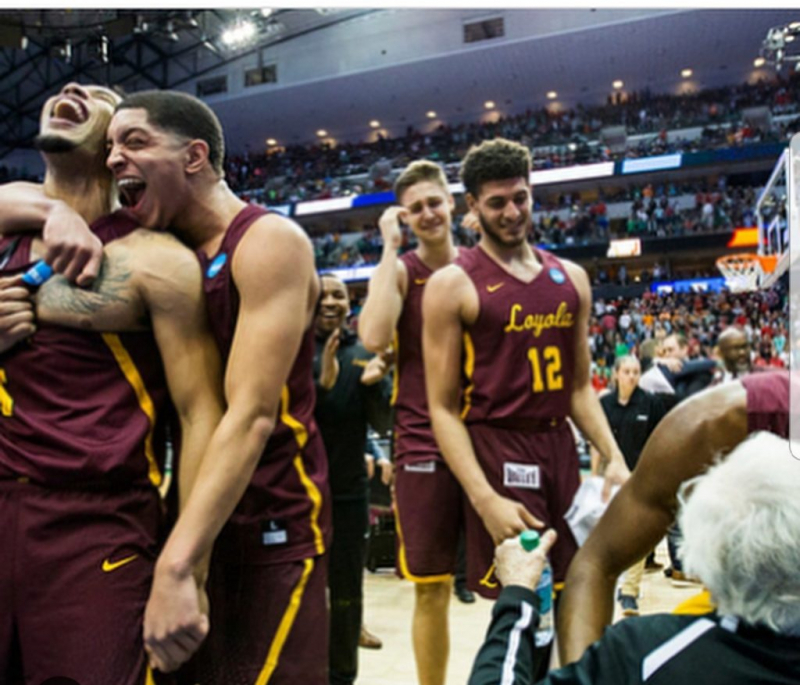 Final Four 2018 has arguably two Cinderellas looking for their happily ever after — Michigan, a 3rd seed hoping their glass slipper fits enough for an NCAA Championship this time around and Loyola-Chicago, a sleeper 11th seed that hasn't been invited to the ball since 1963. When the dust settles in San Antonio, who will come out on top?
One look at how Michigan has dominated its opponents over the last four games and it's hard to imagine why anyone would call the Wolverines a Cinderella team. If anything, to U of M fans, they have been nothing short of Prince Charming. The defensive-minded Wolverines are currently enjoying a 13 game winning streak courtesy of its talented backcourt, a versatile sixth man and an arsenal of pure shooters. Saturday's semi-finals will mark the second time Michigan head coach, John Beilein has pushed Michigan basketball to a Final Four appearance, yet the Wolverines have failed to cut down the nets in almost three decades. Their 2013 championship drive eventually fell flat against Louisville after what was a phenomenal run. Up until this point, all of the maize and blue wins have come over lower seeded teams with the first two wins (vs Houston, 63-64 and vs Florida State, 54-58) resulting in close margin victories that almost left them pining away for a shot at the championship from the sidelines. Ask most bracketologists, college hoops analysts and enthusiasts and Michigan State or Purdue was the Big Ten Final Four favorite this year. Michigan wasn't even supposed to be here but yet and still there's been the squad's top 5 defense to contend with. It's gotten them this far.
Then there's Loyola-Chicago.
While the maize and blue are more than capable of shutting down offenses (see Texas A&M Aggies humiliating defeat in round 3), Loyola-Chicago is no slouch on defense either. The Ramblers have a way of making their opponent play at a slow, steady pace so those looking for a high scoring match up better look elsewhere. The offensively talented Ramblers spread the floor like no other and their ball movement/efficiency in finding the open shot has been praised by Beilein himself as a "thing of beauty." Much like Michigan, their core centers around four guards that can knock em' down from anywhere on the court (Loyola-Chicago ranked 9th nationally in 2 pt. shooting and 11th in 3 pt shooting respectively). They also possess a skilled big man in Cameron Krutwig, a left-handed, freshman center with an uncanny passing ability and an "old school game" according to ESPN. Will Krutwig's post up moves be enough to counter the versatility of Wolverine power forward, Moritz Wagner? The 6'11 junior averages 14.3 pts and 6.9 rebounds per game and can pop a defender from the perimeter as well as inside the paint. His prowess and aptitude for shooting threes make him a threat Loyola – Chicago has yet to face.
The Ramblers have a slight advantage and it's not of the holy variety disguised as a spunky, 98-year-old chaplain named Sister Jean. Sure the team prayers and sideline pep talks have been instrumental in this Cinderella's journey to the ball but it was their ingenuity that allowed them to continue their championship run. In order to best Wagner, they may have to utilize 6'5, 230-pound senior Aundre Jackson on defense and take a smaller, more athletic approach like they did to oust (7) Nevada. Capitalize on Wagner's tendency to get in foul trouble and the Ramblers may have a shot at neutralizing a key part of Michigan's offense.
Either way, with redemption on their minds, Michigan will be an even tougher opponent to beat. Whether you side with the divine or "Go Blue," this will be a matchup of epic proportions in heaven and on earth.
Watch the Wolverines take on the Ramblers tonight at 6:09 p.m. EST on TBS when Michigan faces Loyola-Chicago at the Alamodome in San Antonio before the Villanova Wildcats and Kansas Jayhawks showdown at 8:49 p.m. EST.