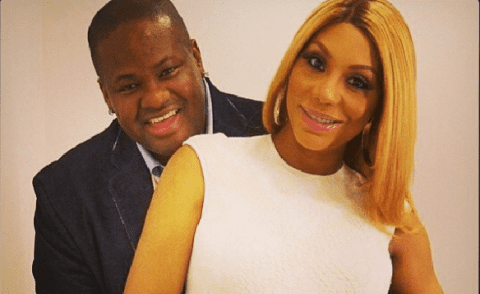 Tamar Braxton fans are ready to upchuck from motion sickness because of the different twists and turns in her volatile marriage with Vincent Herbert.
Dizzied but determined, fans are trying to discern what direction the Braxton-Herbert union is going in these days.
Braxton's fans were taken aback again when she was spotted on a family vacation with Herbert and their young son, Logan. After much criticism, Braxton deleted this post but not before blogs like sipchytea were able to screenshot the photo.
The "Let Me Know" songstress looked like as the trio was having lunch in a restaurant in Cabo, San Lucas. Braxton is still flossing the blond, bald head and is wearing a blue-and-white dress.
Herbert offset her look with a pink shirt.
Fans are surprised to see Tamar back with Vincent after she filed for divorce and accused him of every sin in the Bible.
After all, Braxton said Herbert verbally abused her, beat her, cheated on her and even impregnated another woman.
However, it seems that she has forgiven him for the sake of Logan.
Fans have a lot to say about the estranged couple's pairing in the Mexican glam spot.
wafflesmom10 noted that "not only is she choosing to stay with her abuser who likes "blonde fair-skinned" women, she is also choosing to stay blonde for him. Damn."
Another commenter claimed: "Not a fan of her drama causing ann playing the victim mess she is on. But She looks nice with her cut; this is just a bad picture that's all.what exactly does that have to do with them taking their son on a trip? You act like they are being shown kissing or holding hands."
A third supporter wrote: "All about them legs. Ooohhhh that 'grown woman, I know my worth' swagger is beautiful. See that's why she got mad at her momma cause she knew she was gonna get back with Vince and she ain't want the public to be looking at him sideways.Tamar girl you have been raised in with family that has the same ins and outs as others if not more , Girl pull your boot straps up and handle your business like the firecracker you are. Hold on to the spirit and allow God to guide your direction … prayers to you girl you got this."
What are your thoughts on the Braxton-Herbert situation?