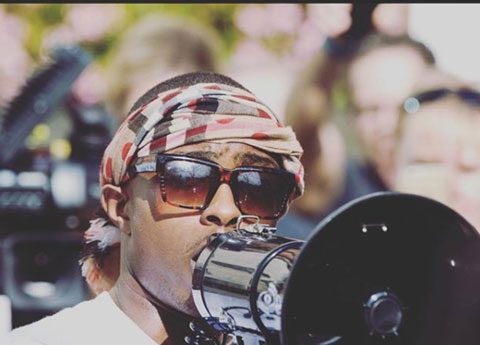 Anyone who has experienced the death of a family member to police actions will tell you it is a particularly devastating blow. Currently, media attention has been on the death of Stephon Clark and the grief-stricken actions of his brother Stevante Clark. During his brother's funeral, Stevante grabbed onto Rev. Al Sharpton as he spoke and acted erratically. In another incident, Stevante had a bizarre interview with CNN host Don Lemon where he rang a bell and stated "next question," surprising the host.
https://www.youtube.com/watch?v=8YQV81Pw4UQ
This week, Stevante posted to his Instagram page a list of demands: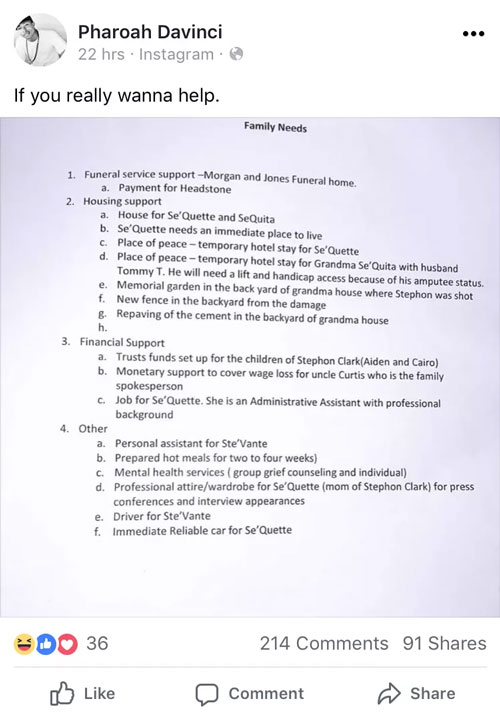 Now, security camera footage is showing Stevante in a very unflattering light. In the video below ,Stevante is in a store with what appears to be a bank deposit bag. He takes out a huge wad of cash and pretends he is brushing his teeth. Some are speculating that this was money received by the family in donations and are trying to put a negative spin on the video. However, no one was with Stevante in the store or knew what he was purchasing legally. In group chat's on conservative social media sites, the death of Stephon Clark and the donations are being called "winning the ghetto lottery."
https://www.youtube.com/watch?v=rtBeaaLE8A4
What is apparent is that Stevante and the entire Clark family is in need of more than marches; they are also in need of serious mental health care that includes grief counseling. Blacks as a group do not seek mental health treatment in a crisis and it often makes a stressful episode worse. The hope is that Stevante and his family get the peace they so deserve.