It has been a brutal week for Kim Zolciak-Biermann
She has been dragged by her blond wigs all over the "Real Housewives of Atlanta" set and the internet this week over the blatant racist attitude she displayed during part three of the "RHOA" season 10 reunion.
During the extremely contentious and vituperative reunion discussions, singer Kandi Burruss also brought up the fact that Zolciak-Biermann's former lesbian lover, DJ Tracy Young, was giving Zolciak-Biermann oral sex while her kids were in the other room.
Now the deejay has come out and is also speaking out with her own accusations against the "Tardy for the Party" star.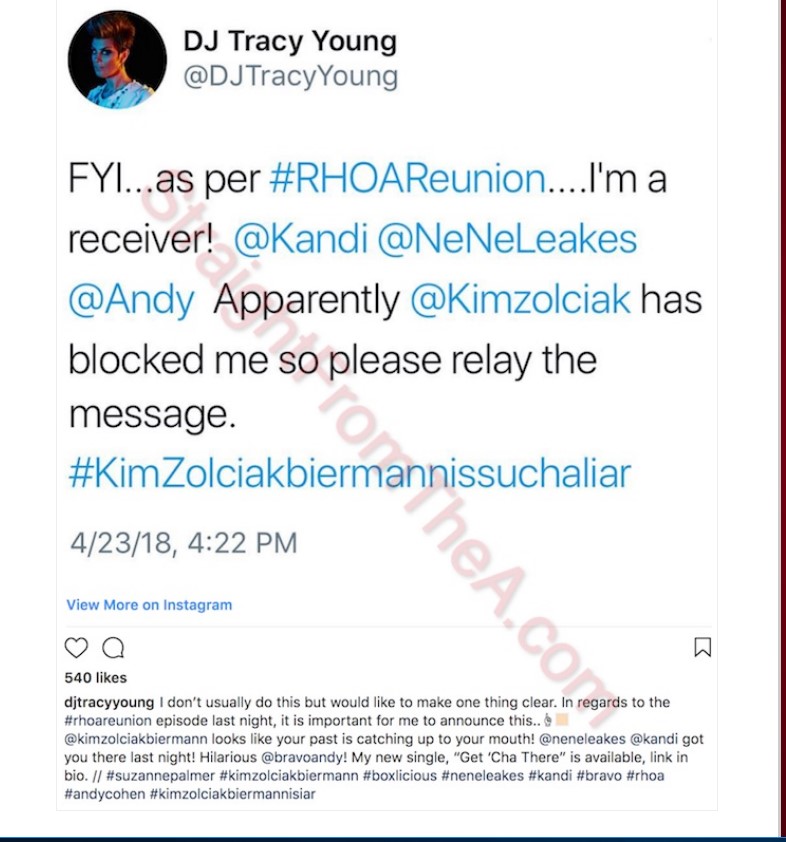 Young watched the "RHOA" reunion and afterward used social media to blast Zolciak-Biermann as a "liar" and claims that she's also was "homophobic."
She's HOMOPHOBIC! It's about time! https://t.co/SLPYXi0cef

— DJ Tracy Young (@DJTracyYoung) April 23, 2018
As you know, Young's comments emerged on the heels of the final installment of the season 10 reunion, where Zolciak-Biermann was pummeled for suggesting that Burruss wanted to hook up with her.
As NeNe Leakes humorously clarified during the show, Burruss accused Zolciak-Biermann and Young of keeping Kim's daughters in the living room while Zolciak-Biermann was having sexual relations with her during a vacation in the Bahamas.
Young also took pains to let the world know that she was the receiver in the situation and not the giver during their rendezvous.