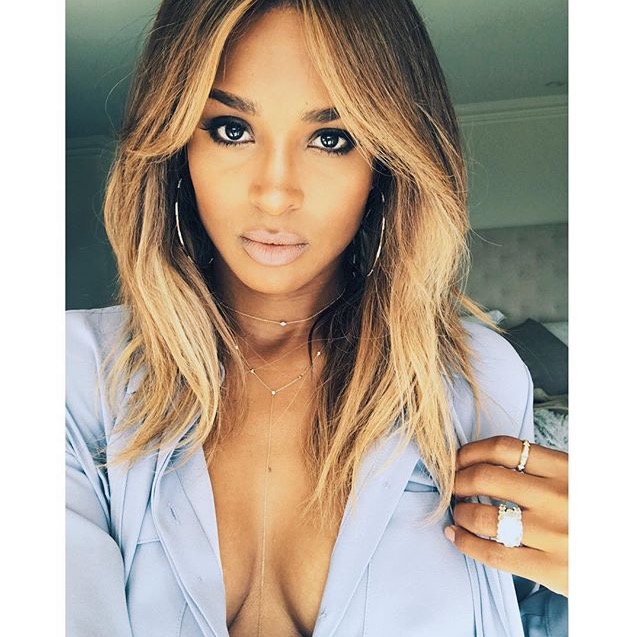 Ciara
managed to lose 50l pounds 
in five months
 after welcoming her second child, thanks to a "crazy" exercise regimen.
The 32-year-old singer is mother to 3-year-old Future Zahir — whose father is her former partner Future — and 12-month-old Sienna, whose father is
Russell Wilson
, and she has admitted that after the birth of her daughter she became "fired up" about losing her pregnancy weight, and managed to lose the impressive amount in just five months.
She said: "I was even more fired up about getting my post-baby weight off [this time]. It was just my own personal goal that I set for myself. It's a whole different animal when you have two kids, and it felt really good.
"I had the craziest system. I would wake up, breastfeed, then get Future ready for school. Then after I take him to school, come back and work out. Then after I work out, [I] breast-feed and go back and get Future from school. Come back and breastfeed, then go work out again."
She would then even pile on more cardio workouts after she put her children to bed in the evenings, and after discovering she suffered from diastasis recti — a postpartum condition in which the abdominal muscles separate — she kicked up her core workouts even further.
"I have to work even harder. That's a bit more intense. A lot more effort goes into it because your muscles bulge out differently, and you're trying to reconnect the muscles and retrain them," she added.
Ciara would love to shed a few more pounds but insists she's in no rush as both she and her husband are enjoying her larger hips.
Speaking to People magazine, she said, "I honestly like some of the hips that have come along with the post-baby weight. I'm not trying to lose those. My husband has been showing me love on my hips, too. He likes them!
"I've definitely been picking up more burgers and fries. Life is just so much better that way! I just do things in moderation."