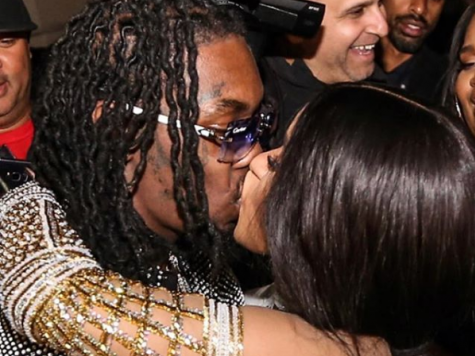 Cardi B
has confirmed she is having a baby girl.
The "Be Careful" hitmaker — who is currently seven months pregnant with her first child with her fiancé
Offset
– implied earlier this week that she is carrying a daughter when she referred to her baby as "she," and in a new interview she has confirmed that she will indeed welcome a baby girl in just two months.
Speaking on "The Howard Stern Show" 
on May 9
, she simply said: "I'm having a girl."
The 25-year-old rapper had previously hinted at her unborn baby's sex when she spoke to reporters at this year's Met Gala 
on Monday
, May 7 when she spoke about how feisty the tot is already.
"Oh, she wants to fight me! My dress weighs about 35 pounds plus baby. It's OK though, I used to go up the project stairs. Shorty weighs three and a half pounds. She do! She do weigh three and a half pounds. That's pretty good for seven months because I was born five pounds," she said.
And it isn't just Cardi who had slipped up in letting the cat out of the bag before an official announcement was made, as last month her sister Hennessy Carolina seemed to refer to the baby as a girl in an Instagram post which she quickly deleted afterward.
She wrote at the time: "I use to wish I was older than you just so I would've gotten the chance to carry you and give you kisses when you were a baby because you were so cute and adorable! and NOW that ur baby is coming it's like it's coming true! I'm going to be able to hold baby you and give her all the kisses and hugs! "
Cardi confirmed her pregnancy while co-hosting 'The 
Tonight
 Show starring Jimmy Fallon' at the beginning of March following rumors that she was expecting — speculation she played down at the time by claiming she was just "fat."