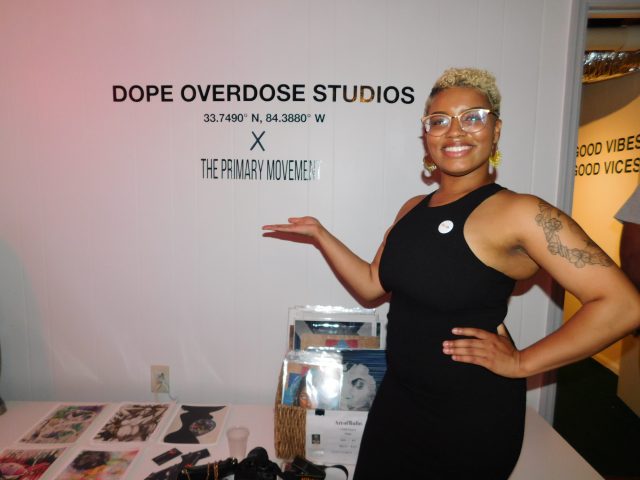 The metro Atlanta area is the land of opportunity for Black creatives to gain exposure. The Primary Movement founded by Diamond Bradley takes shining light on Black artists to the next level. Over the weekend, the young curator hosted a Melanin Pop-Up Show for artists to showcase their work with the theme of highlighting Black culture in a Black-owned space.
"The Melanin Pop Up Show is about celebrating Black creatives. The purpose is to give them a platform, whether it's artwork, vendors, and photographers to give the community a chance to see what they do 24/7," Bradley said.
The show is different from Bradley's first major art show, The Divine Feminine, where only women artists were highlighted. Melanin Pop-Up showcased only Black creatives, but Bradley hopes to curate more shows that are inclusive.
"The next show will be more inclusive, no matter the gender or race," she said.
Bradley was able to curate an art show showing Black people the way she sees them so that people can gain a different perspective of people of color.
Timothy Short, an artist whose work was showcased, wanted to highlight Black masculinity. He presented two pieces titled "Indoctrination", and "The Apostle, Uncle James Alvin Henry."
"My work is exploring Black manhood and trying to hold Black men accountable while telling a story of vulnerability," Short said.
Short's pieces are personal to him. The Black creative did oil on paper of his uncle to "provide imagery of him so that he is more revered."
"Indoctrination" highlights the transference of information between Black men.
"It shows the importance of good and bad information to Black people on how to be a Black man, or what it means to be a man period," Short said.
The Melanin Pop Up Show did more than showcase works by Black artists; it also allowed the creatives to highlight their favorite musicians.
Gabrielle Fisher, a young painter, created a piece inspired by J.Cole's new album, KOD.
"I wanted to showcase his various topics in the album from him overcoming addiction, and what it means to overcome stigmas in the Black community," Fisher said, who is selling the piece for $450.
Along with the art came the sound for the exhibit. Justin Jones created the playlist for The Melanin Pop Up Show after Bradley reached out to him to be a part of The Primary Movement. "I wanted the sound to have the abundant Afro-centric energy to it, so I looked at shows like 'The Get Down','She's Gotta Have It', and 'Dear White People.' I wanted to pull Black culture the way I experience it," Jones said.
Jones chose artists like Kendrick Lamar, Janelle Monae, J.Cole, and several SoundCloud artists.
For Jones, The Primary Movement serves as a resource. "I'm a biology major, so I never knew curating was a thing. Someone gets paid to do that, and I didn't know until I met Diamond. The movement helps people find their passion for art," Jones said.
In the future, Bradley hopes The Primary Movement will expand its following and create a space for Black creatives to network. "The Primary Movement is to connect, showcase, and promote Atlanta creatives. So, we want to create a collective creative in Atlanta just so they can feel welcomed," Bradley said.
Check out photos from the exhibit below.