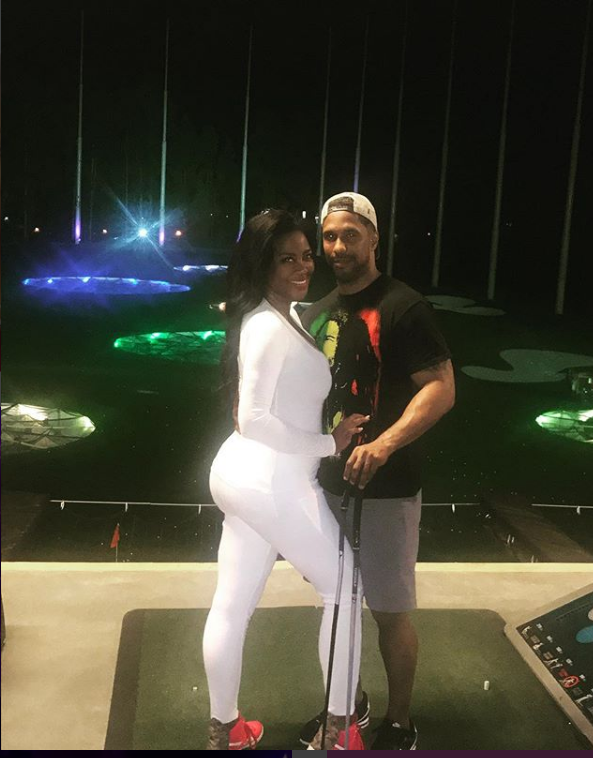 Fans are eagerly joining the "Real Housewives of Atlanta" cast members in the pummeling of fellow star Kenya Moore, accusing the saucy-mouthed model of faking her pregnancy to remain relevant on the hit reality show.
Moore, 47, just posted the above photo of her out with her husband Mac Daly, the New York entrepreneur whom she married last year in the Caribbean. After observing the pic with a discriminating collective eye, fans of the show are questioning whether the Detroit-born beauty queen is really expecting her first child with Daly.
When Moore first announced her pregnancy during the April airing of the RHOA reunion, fans saw that her costars were skeptical then. Now the fans are also disbelieving.
"Kenya didn't look pregnant; all of the ladies have had kids and they totally didn't believe her," an insider told RadarOnline at the time. "No one really believes Kenya is pregnant and the producers think that she said she was pregnant in order to get signed up for the next season. This was a last-ditch effort to get a contract."
The cyberspace beat down began on Twitter and spilled onto Instagram.
"You should be showing or close to delivery by now," a fan posted on Twitter.
After Kenya asked what she should name a potential RHOA spin-off in a tweet, one commenter said, "Pregnot," to mean that she is not pregnant.
Another follower wrote, "Can't believe people are falling for another of Kenya lies…"
One commenter wrote, "I thought you were pregnant? Oh, I get it #TryingToStayRelevant." Another person asked, "Where is the pregnant belly?"
Moore's followers were also mystified as to the whereabouts of Daly's wedding ring.
Kenya quickly pounced on that issue by adding on her Instagram page: "#DateNight with bae ❤ (Bae's ring is on the table thank you for asking)." However, Moore had nothing to say about her slowly-inflating baby bump.
Kenya captioned the photo with "If I did a spinoff what would you name it????? Enter below ***One rule: has to have "Kenya" in the title**** #actor #producer #writer #director #bossmoves #talent."
So what do you think, RHOA fans?