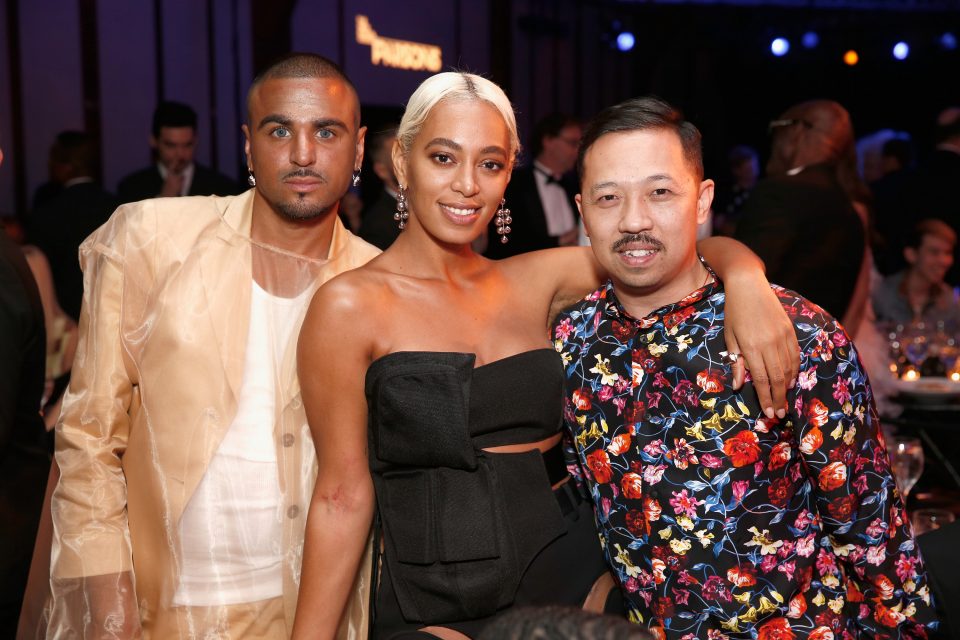 The New School honored Grammy award-winning singer-songwriter and visual artist Solange Knowles, as well as Marco Bizzarri, CEO of Gucci, and José Neves, CEO and founder of Farfetch at the 70th Annual Parsons Benefit on Monday, May 21, 2018. The event recognizes individuals who embody the university's commitment to creativity and innovation. The program featured special video presentations by Pharrell, Missy Elliott, and Erykah Badu along with remarks by Vince Staples in honor of Solange's impact as a pioneering figure in fashion and art. The event was held at Pier Sixty in New York.
Dev Hynes and Kelela were also in attendance to help Solange celebrate.
Solange, Marco Bizzarri, and José Neves join an esteemed list of past honorees, from last year's Rihanna to Donna Karan to LVMH.
The benefit committee for the event includes Anna Wintour, Imran Amed, Richard Baker, Natalie Massenet, Camillo Pane, and François-Henri Pinault.
This honor recognizes the positive and far-reaching impact Solange, Gucci, and Farfetch have had within the fashion industry through their commitment to supporting future generations of designers and creating opportunities for inclusivity in design, entertainment, and fashion. Parsons, one of the leading art and design schools in the world, hosts the Parsons Benefit in collaboration with The New School's College of Performing Arts each year to present and empower the next generation of fashion designers and performers, and to raise instrumental funds for student scholarships. Donors' generosity through the benefit supports education that enables students to pursue studies in art, design, liberal arts, music, technology, and social innovation.
This recognition is the latest in Solange's esteemed career. In the past year, Solange has been recognized with a Grammy, Glamour's Woman of the Year Award, Billboard's Impact Award, and Harvard University's Artist of the Year Award.
From her critically acclaimed album, A Seat at the Table, to performing for former President Barack Obama at the White House as well as her performances at shows at the Guggenheim Museum, the Chinati Foundation in Marfa, Texas, and an art installation at London's Tate Modern Museum, Solange has established herself as a visionary within the music, fashion and visual art spaces.
Solange's latest showing took place in April at the Hammer Museum in Los Angeles, where she premiered Metatronia (Metatron's Cube), 2018, an interdisciplinary video and dance performance piece.
The video features a new sculpture, Metatron's Cube, 2018, conceptualized and created by Solange. The sculpture will be showcased at select locations across the United States this summer.
Check out the photo gallery from Monday's event.