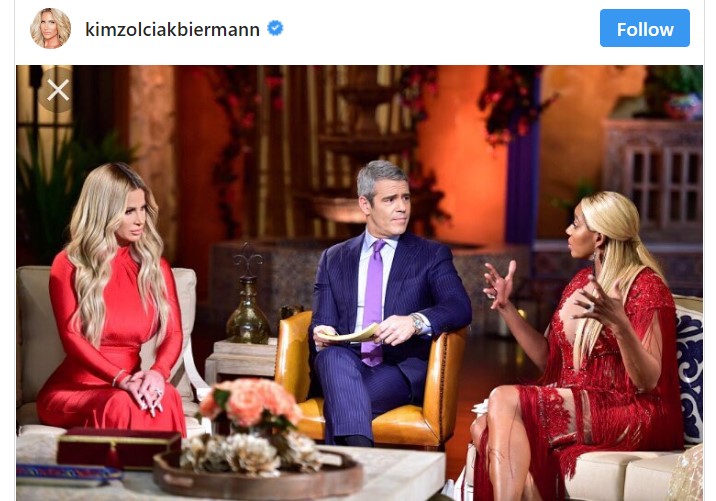 Kim Zolciak-Biermann was "ganged-up" on by the rest of her "Real Housewives of Atlanta" cast mates.
This is what show producer and Bravo executive Andy Cohen now claims in a radio interview. In fact, Cohen said he was so disturbed about Zolciak-Biermann being beat up that he now claims he almost walked off the RHOA reunion show.
As rolling out previously reported, Zolciak-Biermann was slow-cooked over intense heat for making a series of racist statements during the season 10 reunion show — yet she had the audacity to order an apology from Bravo for the way she was treated by her cast mates.
In fact, Zolciak-Biermann threatened not to shoot any scenes for her spin-off reality show, "Tardy to the Party," if she did not receive that mea culpa. 
Zolciak-Biermann never got an "official" apology from the network but it seems Cohen is making his own amends by publicly supporting Kim's nasty attitude.
Andy Cohen recently appeared on"The Jenny McCarthy Show," where he talked about the explosive season 10 reunion and how he actually wanted to walk off during the taping.
"I hate a 5 against one situation," he told McCarthy. "Yeah, I don't like it cause it was a 'gang up.'"
"It's less dramatic when a person can take up for themselves," he contionued. "Kim was not having an easy time with her words. She was making it harder for herself. I really did not have control of the room and I wish that I had walked off."
Interesting that Cohen now portrays Zolciak-Biermann as a damsel in distress when she started most, if not all, of the drama she was involved in since being brought back to the show.
Zolciak had no problem "with her words" when she was calling the Black women "b******" throughout the last few seasons.
Check out the interview below.
Source: YouTube/The Jenny McCarthy Show