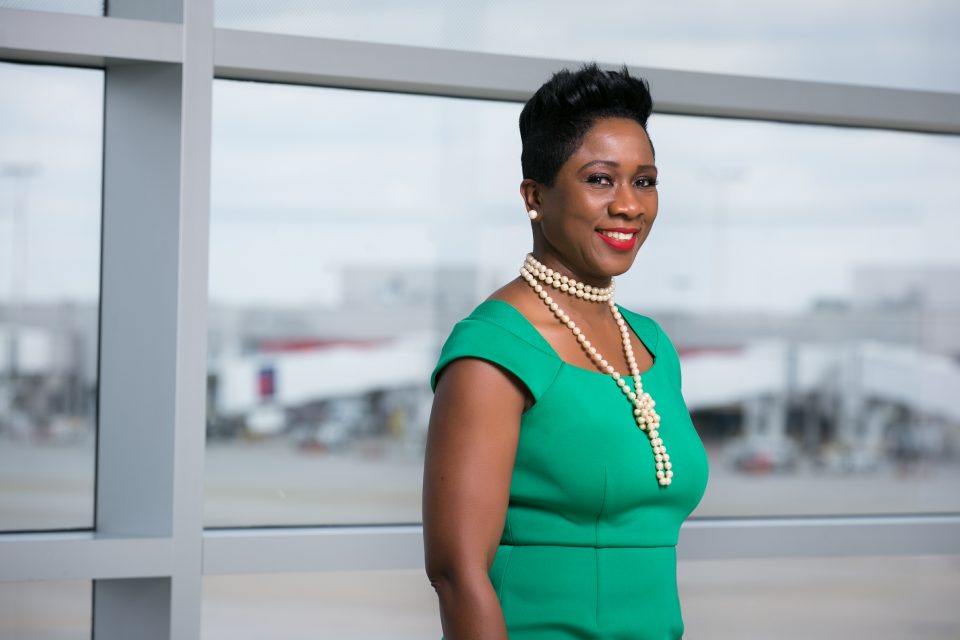 Alrene Richards Barr is the director of International Affairs for Hartsfield-Jackson Atlanta International Airport. It's where the seasoned executive wields her expertise in regional economic partnerships and international business relationships for the city and the world's busiest airport.
Barr wears many crowns: creator of the Sister Airports Program; the liaison for the Atlanta Consular Corps.; she's a member of UNITAR/CIFAL Atlanta's Airport Program Planning/Steering Committee, Metro Atlanta Chamber's Global Commerce Council, Welcoming Atlanta iSpeakATL Taskforce, and Georgia Council for International Visitors, Benevolent Missions of Atlanta, the Atlanta-Montego Bay Sister Cities Committee, and is a volunteer-instructor to airport managers in several developing nations including The Gambia, Malawi and Suriname.
A native of Jamaica, she received the Aviation Trailblazer Award from the government of Jamaica. In addition, she was honored by the Georgia House of Representatives with a commendation for "outstanding public service." Most recently, she was named one of the Atlanta Tribune's 2018 Women of Excellence in the State of Georgia. In 2017, she was selected to serve as one of just 12 cultural competency trainers for the city of Atlanta's 8,000 employees. In that role, Barr teaches city team members how to harness Atlanta's religious, cultural and linguistic diversity as part of the city's commitment to serving all of its constituents.
Here's our interview.
What inspires you to show up at work every day?
My commitment to service and helping others has always been of greater importance to fulfill and enrich my life over simply getting a paycheck. Hence, I am excited about coming to work each day confident in the knowledge that the work I do whether in the areas of training airport professionals in developing countries or contributing to our air service development program which promotes trade and culture with others. That commitment to service is being realized.
How did you determine your career path?
Growing up on an Island at an early age, I simply developed a curiosity [about] what was beyond that country. That is, curiosity about other countries and cultures. Therefore, subsequently on being exposed to such international countries and cultures through an internship with Hartsfield-Jackson Atlanta International Airport, I knew I had discovered a career about which I could become passionate.
What industries connect to your career choice?
There are several industries that connect to my career choice. Chief among them are that of international diplomacy, that which is practiced through my frequent collaboration with the Atlanta Consular Corps; my participation in the Atlanta-Montego Bay Sister Cities program; my successful pursuit of a number of sister airports agreements; and my active collaboration with other airports.
Describe the skill sets that will be essential to future business leaders and innovators.
Those skills include organizational, interpersonal and communication, as well as, vision, honesty, integrity, and the courage to exercise that integrity, particularly in the public sector area.
Describe goal setting methods you use and how you evaluate your success.
My approach to goal setting is the establishment of short, medium and long-term goals with not only measurable success factors but milestones in between so that one does not wait until the goal deadline to determine success. I am also keenly aware that what does not get monitored, doesn't get done. Therefore, it is important that each day one makes a concerted effort to do something that is either relevant or applicable to achieving those goals.
Name your favorite role models for success in two different industries.
Understandably, because I am in the aviation industry, my favorite role model is Angela Gittens, the first African American female who headed a major airport, Hartsfield-Jackson Atlanta International Airport, in the United States, and whose parents are originally from Barbados. My second role model is the deceased Vin Martin, who was the epitome of servant leadership. He served the Atlanta-Jamaican community both tirelessly and selflessly.
Share why lifelong learning is important to you.
I believe that it should be one's lifelong commitment to learn. Otherwise would be to suggest that one is perfect and of course no one is.