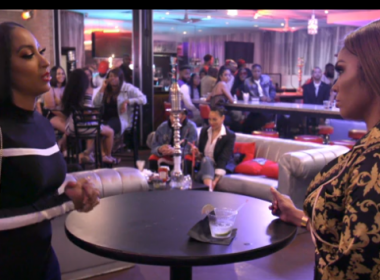 The meeting we've all been waiting for finally went down.
During the latest episode of "Love & Hip Hop Atlanta," music maven Rasheeda confronted the woman who slept with her husband, Jasmine Bleu, during an event for Rasheeda's Pressed store grand opening in Houston. That illicit affair produced a love child.
For her part, Bleu had been itching to sit down with Rasheeda for several months to apologize, and this week on "Love & Hip Hop Atlanta," she popped up in Texas to do just that. Don't let me tell you how awkward it was, just look at everyone's face when she walked in.
More impressive than the sting of Rasheeda's epic read of Jasmine? The fact that she has a drink in her hand the whole time and doesn't even think of throwing it. As Erica Mena puts it:
"Rasheeda, you are such a lady, because I would have killed that b****."
Restrained yet strained, as Rasheeda is disgusted that Jasmine Bleu keeps popping up at places and events that Rasheeda is at, she decides to have the showdown in Texas.
The rap raven systematically broke Jasmine down for being a "f***ked up person." When Jasmine tried to apologize for having sex with her husband and say that's not the type of person she is, Rasheeda intercepted her and said "Really? That is the type of person you are."
She also slammed Bleu not so much for having an outside child with her husband, but for her behavior after the fact, which would include posting side-by-side photos of Rasheeda's son on social media to compare his looks to her own son's.
Rasheeda said, "I'm going to keep it 100 with you. That was some real bullshit. You know how you f***ed with my family. At the end of the day, there's really nothing you can say to me to make anything any different.
One thing about me though, I'm a real a** woman. And your child has nothign to do with the situation at hand. But with the way you maneuvered, that was on some s*** that I can't f*** with. That's why I won't talk to you, and that's why I haven't talked to you."
Rasheeda concluded gathering Jasmine Bleu, as all of her cast mates looked on with wide eyes, with this final uppercut:
"On some real s*** you a f***d up individual for doing what you did, I'm not even talking about the whole f**** around s***," Rasheeda said. "All these games with these blogs—you posted child on Instagram that type of shit right there that shit is a no-go. Your malicious a** ways I can't respect that on any level."
Some fans are feeling like if Jasmine is a bad person, then what about her husband Kirk Frost, who laid down with the former stripper?

Some LHHATL fans have come out and said that Rasheeda kept it chill and classy and put the blame on Jasmine: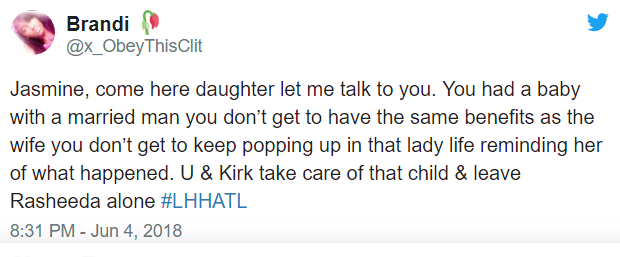 What do you think about how Rasheeda handled the situation?