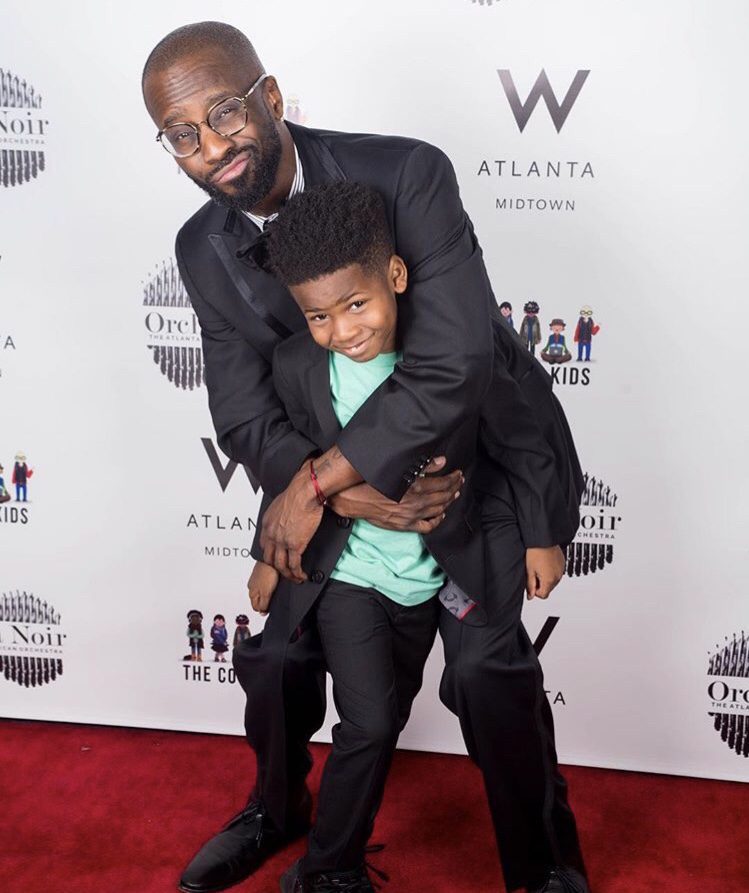 Bryan-Michael Cox is a record-breaking, super producer and songwriter who's known for his extraordinary work with multiple platinum-selling artists, including Destiny's Child, Usher, Mariah Carey, Mary J. Blige and Toni Braxton.
Over the course of his career, Cox has been responsible for over 100 million record sales, accrued 35 No. 1 hits, and 12 Grammy Award nominations (including nine wins). He's been widely regarded as one of the most critically acclaimed and commercially successful songwriters and producers in the history of R&B. In 2009, Cox was inducted into the Georgia Music Hall of Fame for his outstanding contributions to music.
Even though Cox has received many accolades and has been awarded numerous times, the role he covets the most is that of a father. Rolling out recently spoke with Cox about being the best father he can be. He shares stories from his childhood and gives valuable advice, not only to his son but to many. Check out the exclusive below to find out more.
What legacy are you leaving for your children and the children of your community?
The legacy that I leave behind for my son is the understanding that he can accomplish anything if he puts action with his dreams. I want to continue to be an example for him in that light.
How would you describe your fatherhood culture?
My fatherhood culture is based on pure love. I love my son very much and pretty much every decision I make is based on his well-being.
From a father's perspective, what two books would you recommend every child read?
The two books I would suggest are Ben and the Emancipation Proclamation by Pat Sherman and Trombone Shorty by Troy Andrews and Bryan Collier
Why is it important to expose children to education and valuable skills?
It's important to expose our children to education and valuable skills because the more they know, the better equipped they are for life. It is also my duty as a father to teach my son the spirit of entrepreneurship. As Dame Dash says, hustle for your last name. This is why my holding company is named after him.
As a father and a life coach, describe your playbook.
My playbook? Man, I am learning as I go. His mother and I are creatives, so we allow him some freedom and the ability to be able to express himself without feeling subjected to ridicule. My child has an honest spirit, a reflection of his mother.
Which fatherhood experiences have taught you the most about yourself?
What has fatherhood taught me about myself? Let me see, as of late it has taught me a different level of patience. I am naturally laid-back, but my son is 7 years old now and we're entering an era of personal discovery, building friendships, battling outside influences and with me and his mother living separately, the onset of our personal lives and adjusting as that develops. So, the biggest lesson to date is patience.
What insightful advice would you suggest about building a network?
My son is a true blend of me and his mother, an extrovert and an introvert! He is extremely social, yet he is perfectly fine with chilling by himself. I would suggest that he doesn't lose that extrovert characteristic. When he is on, he works a room like no other little person!
Why should people read every day?
You should read every day because the brain is like a muscle, the more information you feed it, the stronger it gets.
Name one life lesson that no one taught you, but should have.
There are a couple I wish I would have learned earlier, but the main life lesson is "… to know when to let people go."
How important is keeping your word?
Keeping your word is everything!
When it comes to protecting yourself at all times, physically and mentally, what would you tell your child?
I tell my son to always be mindful of your surroundings. Be alert. Be very protective of your personal space and if anyone invades that, you have the right to do whatever is necessary to protect it. And never hesitate to tell me or your mother what's going on. Keeping us informed is important.
What advice would you give on being responsible for your own dreams?
I would use my story as the example. I have been responsible for my own dreams since I was a teenager and because of that, he gets taken care of.
Finish the sentence: never give up on yourself because … giving up on yourself is giving up on life and life is too dope to give up.
Share one of your fondest memories you've experienced with your father, grandfather or father figure.
Growing up, I was very close to my grandfather and my great-grandfather. In Miami, my grandfather would take me to this restaurant called Jimmy's, just me and him, and we would talk about everything. I actually went back to the restaurant two years ago, the week it closed, to pay homage to those moments. My great-grandfather and I used to sit on his front porch and read the newspaper. It may sound uneventful but I always looked forward to being in his presence.
Why is writing down your fatherhood goals for life so important? Share your most valued and treasured fatherhood goal.
Writing down all of your life goals is very important because I believe that once pen hits paper, thoughts become things and those things come to fruition based on that vibration. My goal as a father is to help raise up a wonderful human being. That's it. His life is going to be his life, no matter what he becomes, I just want him to be happy.