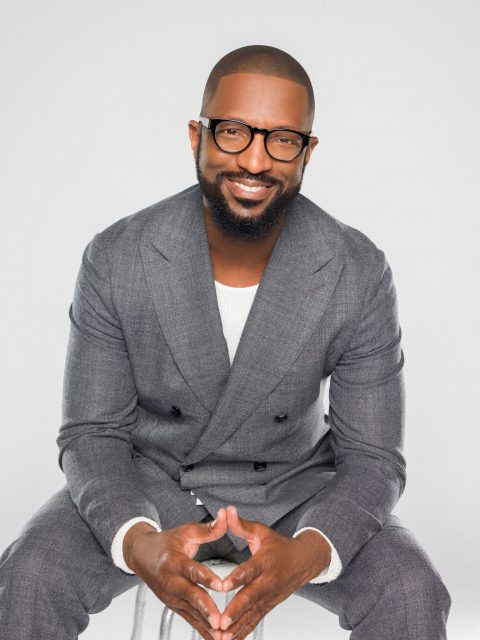 Here, entertainer Rickey Smiley discusses fatherhood.
What legacy are you leaving for your children and the children of your community?
You have to play no games. I hope that I leave something positive with them to make them want to be the best that they can be. To be upstanding and just being a good man. Being honest and upright is important. I hope they take what I have taught them and apply it when it comes to their kids. Because they too will be parents one day, as well.
How would you describe your fatherhood culture?
I think I came out to be pretty successful being raised by my grandparents and great grandparents. I just hope [my kids] pass the same values on to their kids. I let them know that I am "not your friend." That's my No. 1 thing. I also understand that parenting is not a popularity contest. I don't care if nobody is talking to me in the house. It's what I said and that's the end of it. I mean they don't pay for nothing; they don't go to work hosting the radio show and they don't go perform on the weekends. That's what it is and I don't explain my no.
From a father's perspective, what two books would you recommend every child read?
Rickey Smiley: Stand By Your Truth, No Opportunity Wasted by Bishop Joseph Walker and  Jekalyn Carr's You Will Win. Those are three books I feel are important for kids to read.
What insightful advice would you suggest about building a network?
The main thing is to be professional and learn how to mix in with other races and other cultures. There are white people out here signing checks, too. We have to learn to think outside the box. And not just be comfortable being around Black folks.
How important is keeping your word?
It's very important because when you have nothing left, all you have is your word. Mean what you say and say what you mean. Be man enough to look people in the eye and say no. You need to learn to look people straight in the eye and say no. You should see me look people in the eye and say no to people who ask for tickets. (laughs)
When it comes to protecting yourself at all times, physically and mentally, what would you tell your children?
Stay out of the line of fire. Stay at home. Find you a hobby that's outside the box. Go to the lake and rent you a boat. Jump in the lake. Why not? That's the problem. We don't like to swim; we don't like to hike. We think sitting in the backyard eating baked beans while listening to Frankie Beverly is living. This is why I train my kids to think outside the box. Kids need to have exposure to different things. Exposure is everything for a child. It's hard to get something when you ain't seen nothing.
Finish the sentence: Never give up on yourself because
You can do it. It's not how you start; it's how you finish.
How does following your spiritual values help you in life? 
You always want them to be spiritual so that when they fall upon hard times they have something to read and something to pick up and turn to. You expose them to God to teach them that God is real, that God owns everything so they don't grow up thinking people own everything and praising  people and kissing people's butt. They need to know they serve a real and living God. Teach them to trust God and even if you don't take them to church, you teach them how to get in a corner and have a good conversation with God.
Share one of your fondest memories with your father, grandfather or father figure. 
My fondest experience was my grandfather having long drawn out conversations with me every night from kindergarten to high school. Still til this day, my granddaddy is 92 years old. I had two wonderful uncles growing up who stepped up to the plate when my dad died. My uncle Anthony Bruce Smiley and my uncle Herbert Armor. These are uncles who spent quality time and they were father figures. There was my granddad's brother uncle Thomas who picked me up every summer, driving all the way to Birmingham from Cleveland to pick me up and that made the difference. I just really appreciate them being in my life.
Rickey Smiley can be heard Monday-Friday mornings on "The Rickey Smiley Morning Show" and then on his syndicated radio show "Dish Nation" in 72 markets. Or he can be seen on his TV One hit reality show "Rickey Smiley for Real." Check your local listings and follow him on social media @realrickeysmiley