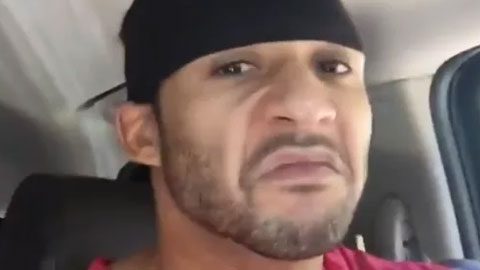 Last week, it was reported that former NFL star Kellen Winslow Jr., son of NFL legend Kellen Winslow Sr., was arrested by the San Diego County Sheriff's Department for a string of disturbing charges. It was the troubled athlete's second arrest in a week and now new information is painting Winslow as a serial rapist of elderly women.
It was almost two weeks ago when police confronted a bare-chested and sweating Winslow as he was exiting the trailer home of an 86-year-old woman. A neighbor had seen Winslow in the woman's home and called the police. The neighbor confronted Winslow, who then jumped into his SUV and sped away. Police caught up with the car a short time later and when he was confronted by police his story changed twice. First, he stated he was looking for his big red dog named Clifford and then he said he was actually looking to buy a mobile home for a relative. Police now have revealed that Winslow allegedly had just raped the senior citizen. The Major Crimes Unit arrested Winslow last Thursday and charged him with multiple felonies that could see the former football player behind bars for life.
On Friday of last week, Deputy District Attorney Dan Owens detailed the charges against Winslow. According to Owens,  Winslow was involved in a series of sexual assaults against women that date back to March of this year. All of the alleged crimes were in Encinitas, California, where Winslow lives. In outlining the crimes, Owens stated that the first two victims were transient women that Winslow had picked up in the streets. They claimed that when they got into his SUV they were raped by Winslow who threatened their lives if they went to police. Another victim of Winslow's deviant crimes was an old woman who was gardening when Winslow allegedly exposed himself to her outside. The last two victims alleged that they were sexually assaulted by Winslow in their trailer homes. In total Winslow has been charged with:
Kidnap, rape and forced oral copulation of a 54-year-old woman in March
Kidnap, rape and sodomy of a 59-year-old woman in May
Indecent exposure in May (the victim was a 55-year-old woman)
Burglary with the intent to rape a 71-year-old woman in June; and burglary with the intent to rape an 86-year-old woman in June
Winslow's father was at his arraignment and issued the following statement:
"On behalf of our son and my husband, we want to reiterate our love, support, and affection for him during this difficult process. We will always be there for him and we know the true facts will come out."
Winslow is being held without bail and his next court appearance will be on June 25, 2018.