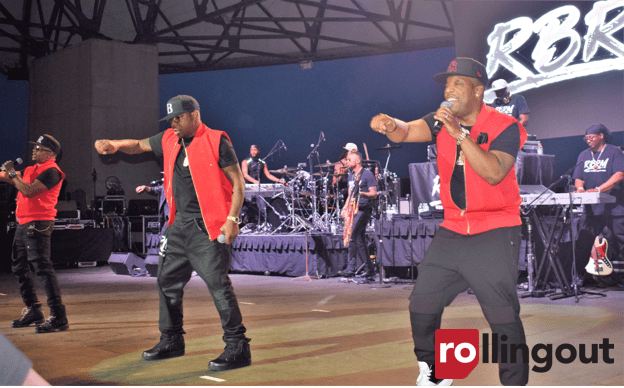 The '90s nostalgia was floating on the Detroit River at Chene Park this past weekend, with unforgettable performances from Silk, and four of the six members of the legendary music group New Edition.
R&B group Silk opened the show, taking the crowd back to the '90s with their performance of "Happy Days," "Lose Control," "Meeting in my Bedroom," and their 1993 Billboard No. 5 hit, "Freak Me." Thanking their fans for 25 years of support and loyalty, Silk put on a performance that took attendees on a trip down memory lane to a time when R&B groups reigned with soulful harmonies. They sounded as tight as they did 20-plus years ago.
Headlining the show were '80s and '90s heartthrobs Ronnie DeVoe,
Bobby Brown
, Ricky Bell and Michael Bivins, now known as RBRM. Fans who missed Bobby Brown during last year's tour were elated to see him perform with the group this time around. While in Detroit, Bell Biv DeVoe and Brown blessed the stage with a variety of music from back in the day that kept fans on their feet.
Brown opened RBRM's show with his 1988 hit, "My Prerogative," and went on to perform various songs from his solo career throughout the show, including "Roni," "Don't be Cruel" and "On Our Own."
Bell Biv DeVoe's hits were also interspersed throughout the show. Many audience members were able to relive their younger years, jamming to songs like "Thought It Was Me," "When Will I See You Smile Again" and, of course, the all-time BBD fan favorite, "Poison."
Brown and BBD took turns sharing the spotlight, supporting each other's sets. The four even performed the New Edition classic, "Candy Girl." Though Johnny Gill and Ralph Tresvant were not in attendance, RBRM gave their absent group members a shout-out. And while it seems as though the group is not always on the same page, members of New Edition continue to rebrand themselves, proving their longevity. They continue to grace the stage with perfectly synchronized choreography and chilling harmonies, just like they've done for the last 35 years.