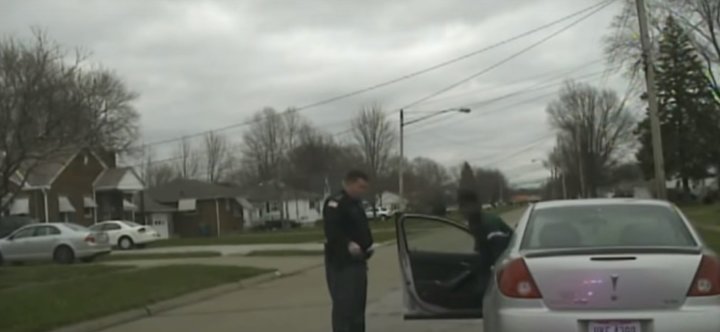 A white police officer in Lorain, Ohio has been fired after stopping his daughter's Black boyfriend and then detaining them without probable cause or provocation. Lorraine is about an hour west of Cleveland in northern Ohio.
According to The Chronicle Telegram, Officer John Kovach Jr. pulled Makai Coleman, 18, over while he was driving with three individuals, and told him he was "going to jail."
When Coleman asked Kovach why he was going to be jailed, Kovach reportedly did not answer his question but retorted with, "Have a seat in my car. We'll make sh*t up as we go."
Kovach put Coleman in the back of his car. A nearby homeowner, Gloria Morales, approached Kovach and told him that two of her children were in the car as well.
Kovach told Morales that his daughter's laptop was in her house and he wanted to get it. When Morales told the officer that he couldn't come into her home, he threatened to apprehend her as well.
Kovach later confessed that he used the laptop to track where his daughter was and that's how he knew she was in the area when he pulled her and her Black boyfriend over.
The officer eventually told his daughter, Katlyn, who was sitting in the backseat, to get in his car immediately.
Interesting enough, Kovach detained his own daughter, pushing her into the vehicle and letting her Black boyfriend out.
Furthermore, while the officer was busy interrogating the interracial couple, Kovach ignored an emergency request to check up on a road rage incident.
The internal investigation determined that Kovach had violated the department's policy in four different ways: initiating the traffic stop without cause; threatening to arrest Morales; taking the Black teen into custody and saying he would make up the charges against him.
Check out the video of the illegal police stop and detainment, as reported by the Chronicle-Telegram: