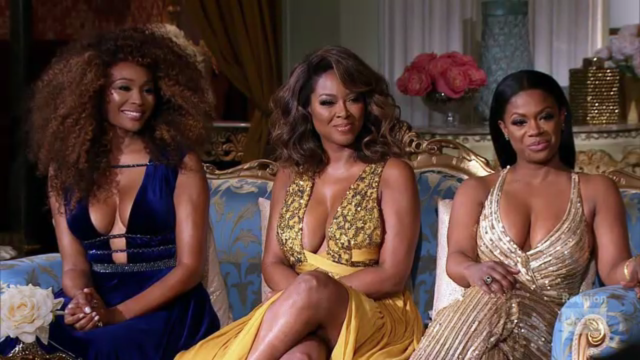 According to media reports, filming for the Bravo TV blockbuster reality show "Real Housewives of Atlanta" has begun for the upcoming season. After OG Nene Leakes announced the opening of her new boutique in Miami, the ladies traveled to South Beach to support the actress and entrepreneur.
There was one housewife who was conspicuously absent, and by now you can probably guess who that person is.
Leakes, Porsha Williams, Cynthia Bailey, Kandi Burruss, Eva Marcille and even Marlo Hampton were reportedly on hand.
Kenya Moore was nowhere to be found, Bingeworthy.com reported.
While Leakes, 50, is in South Beach, she is also scheduled to perform on the "Ladies Night Out" tour with other comedians, including the likes of "The Real" co-host Loni Love. She was forced into a brief moratorium from the concert tour to tend to husband Gregg Leakes, who was diagnosed with cancer earlier this month.
There are only two scenarios as to why Moore — or the new Mrs. Daly — wasn't with the rest of the ladies: she's either been exiled from the show or she was demoted to "friend" status.
As rolling out previously reported, Moore has been punitively (and financially) punished severely for getting surreptitiously married to Marc Daly in the Caribbean last summer without notifying Bravo producers. To add, many fans and Wendy Williams question whether she is pregnant, as she claims.
Moore, 47, recently lashed out at multiple media outlets and blogs via Instagram, denouncing them as "fake news," while simultaneously denying she was either exiled or demoted from the show:
"#FAKERHOANEWS .No one has EVER asked me to be a friend to show… .fact: I am THE housewife that has had THE highest rated episodes the past 3 seasons… even last year having missed 3 episodes.#Fact: the Barcelona New Lineup didn't work…The fans have spoken. I've never been called boring.#Factlove me or hate me I may not be the "fan favorite" (my sister @kandi is and well deserved) but thank you for being invested in my life and continuing to contribute to the success of #RHOA and my success in my career on all levels .Don't worry #teamtwirl you will get to see #babytwirl and all that I'm experiencing as a new wife and mother-to-be one way or another .You will see my raw truth… the good the bad and the ugly one way or another.Fact# I am good effing TV! Fact# I will be a HW or nothing at all. Fact# I don't discuss business but know that I know my value."
The fact that Moore was reportedly a no-show in South Beach doesn't necessarily mean her status has changed. She could still be scheduled to be filmed when the ladies return to the ATL.
As rolling out reported previously, Eva Marcille was upgraded to a full-time housewife, and she may be the only new person getting a peach in season 11. Marlo Hampton insinuated strongly that she is an official cast member instead of just a "friend," but that claim has yet to be corroborated.
The question then is this: Will you tune into RHOA if the Detroit-born beauty queen is no longer a cast member?
Check out a preview of the upcoming season of Bravo's marquee show below:
Source: YouTube/Cringeworthy