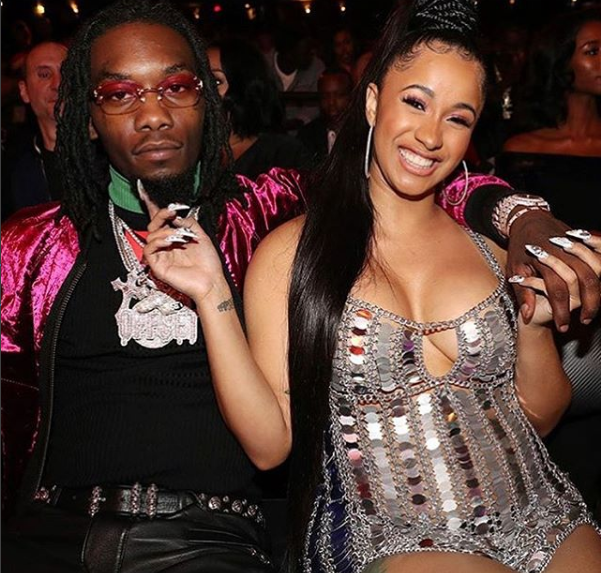 No need to wish Cardi B and Migos' Offset will get married and live happily ever after.
That's because the rap stars apparently have already tied the knot.
According to news reports, the inseparable couple had a secret wedding — almost a year ago.
This certainly explains why Offset's been calling Cardi his "wife" in public. "TMZ" says it did some investigating and found out they obtained a marriage certificate in Fulton County, Georgia, (Atlanta) on Sept. 20, 2017.
The marriage certificate is filed with the court after a couple does the deed as proof the marriage really happened.
Now that the secret is out, Cardi hopped onto Twitter to explain why the couple went undercover with their life-changing decision.
Here's what the Invasion of Privacy singer had to say about the wedding, followed by a note to her haters:
"There are so many moments that I share with the world and then there are moments that I want to keep for myself. Getting married was one of those moments! Our relationship was so new breaking up and making up and we had a lot of growing up to do, but we was  so in love we didn't want to lose each other, was one morning in September we woke up and decided to get married. We found someone to marry us, and she did, just the two of us and my cousin. I said I do, with no dress, no make up and no ring!
"I appreciate and love my husband so much for still wanting for me have that special moment that every girl dreams of when he got down on his knee and put a ring on my finger and he did that for me!! Well now since you little nosey f—s at least ya can stop saying that I had a baby out of wedlock." (sic)
What do you think about Cardi B being secretly married to Offset for almost a year? Are you mildly surprised or shocked by the news?