Buffalo Bills running back LeSean "Shady" McCoy's illustrious NFL career — as well as his freedom — could be in peril after his former girlfriend revealed ghastly photos she alleges are the result of the gridiron great having beaten her to a pulp, The Sporting News reports.
McCoy denies ever laying his hands on her and claims he has not had contact with the ex-girlfriend for months.
Delicia Cordon is now reportedly recovering in a hospital. A woman identified as Cordon's close friend, Mia Michelle Boykin, posted extremely graphic photos that she alleges were taken from Cordon's hospital bed. She also accuses McCoy of beating his dog, physically abusing his own child for minor transgressions and of using drugs and steroids, among other claims, Buzzfeed reports.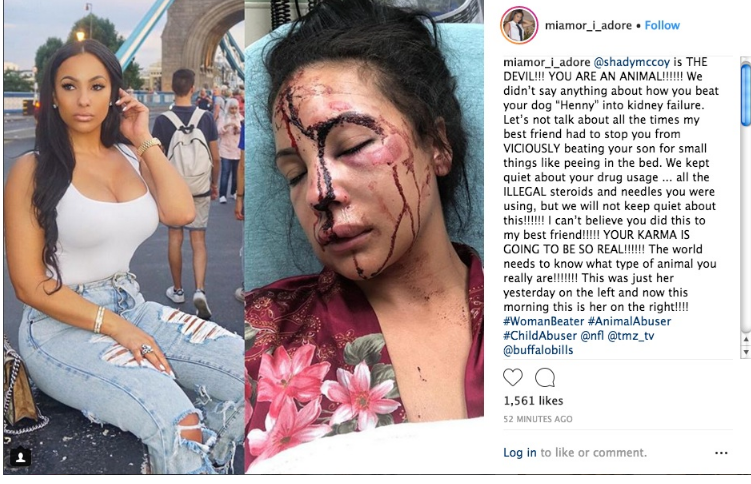 Boykin added this scathing message to McCoy on Cordon's IG account: "@shadymccoy is THE DEVIL!!! YOU ARE AN ANIMAL!!!!!! We didn't say anything about how you beat your dog "Henny" into kidney failure. Let's not talk about all the times my best friend had to stop you from VICIOUSLY beating your son for small things like peeing in the bed. We kept quiet about your drug usage … all the ILLEGAL steroids and needles you were using, but we will not keep quiet about this!!!!!! I can't believe you did this to my best friend!!!!! YOUR KARMA IS GOING TO BE SO REAL!!!!!! The world needs to know what type of animal you really are!!!!!!! This was just her yesterday on the left and now this morning this is her on the right!!!!#WomanBeater#AnimalAbuser#ChildAbuser."
Boykin's post on Instagram has now been deleted, but not before it went viral nationwide. Bossip reports that Boykin said McCoy sent goons to pistol-whip and rob Cordon, causing the injuries to her face.
McCoy, 29, is a nine-year NFL veteran from Harrisburg, Pennsylvania, who is in the midst of a possible Hall of Fame career. That would be in jeopardy if the reports turn out to be true.
McCoy denies he is responsible for inflicting those shocking injuries:
"For the record, the totally baseless and offensive claims made against me today on social media are completely false. Further more, I have not had any direct contact with any of the people involved in months," McCoy said on his Instagram page.
The Buffalo Bills issued a statement indicating that the team is monitoring the situation.

The NFL has yet to comment, but the league's current stance on domestic violence is well known. The NFL unofficially banished former Baltimore Ravens running back Ray Rice permanently when he was shown on a hotel video published by TMZ punching his girlfriend unconscious in an Atlantic City casino elevator.