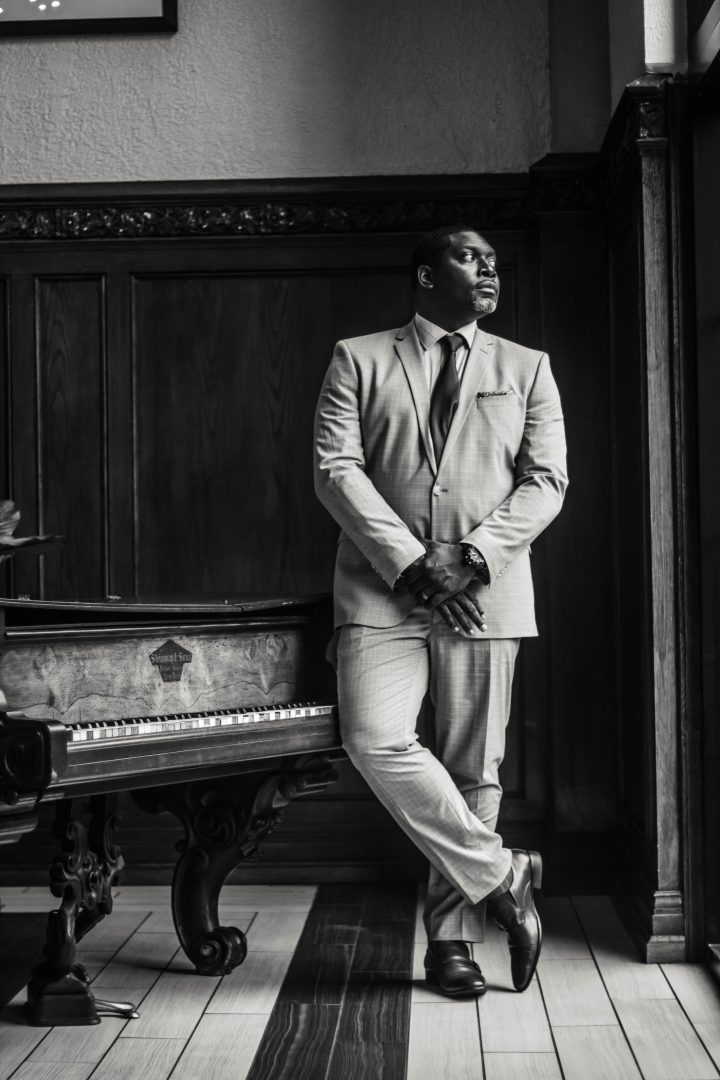 Award-winning producer Jamar Jones recently released his first ever solo project Fatherless Child. Recorded under Patti LaBelle's imprint GPE Record, the album is a collection of compositions put together by Jones and friends to tell his life's story. It features musical contributions from R&B artist Glenn Lewis, Montell Jordan, Vivian Green, and Patti herself.
"Everything on the album touches my life in some way. There isn't anything on there that doesn't directly correlate with me or some area of my life," says the Philadelphia native as he explains what Fatherless Child represents. With every song hitting a period in his life, starting from a very young age, Jones has created a musical roadmap of his journey and the things that he's experienced.
An accomplished arranger, composer, producer, and artist, Jones has worked with some of the best artists in the music industry. Some of the big names that he's worked with include Jill Scott, Jamie Foxx, Fantasia, Kanye West and Boyz II Men. Additionally, Jones recently received a 2018 ASCAP Screen Award for "Top Cable Television Series" for The New Edition Story, on which he served as the underscore composer. Currently, he is touring with Jill Scott for the Summer and remains so through the release of Fatherless Child.
Read what else Jamar Jones had to say about his album Fatherless Child, and his personal journey.
How does it feel to be releasing your first solo project, Fatherless Child?
Overwhelming. I woke up this morning thinking about the word commencement, which literally means to begin. It's not necessarily the end but it's definitely the beginning. I've had the opportunity to be around, work with, behind and in front of a lot of musical talent. With stars and artists, you know their stories. This is the first time that I get to share my story. I'm a little nervous but at the same time I'm filled with excitement, and energized by it.
Why did you decide to name the album Fatherless Child?
My father passed away when I was 3-years-old. At the time I was about to turn four, and I have an unusual level of recall about most things. All my life I would talk about this event which later I learned was his funeral. The memory of my dad's funeral was engraved in my head. It's really my first memory of him and it's actually where my life starts. That's what the music is about, essentially starting near that point and then moving forward.
I started playing the piano when I was four-years-old. The piano became the tool that I would express all of my emotions. It wasn't until I grown man that I was having some issues or some struggles. I went to counseling an therapy, and it was pointed out that I had never adequately dealt with the questions that came with the death of my father.
Describe the inspiration behind some of the sounds in this album.
Every song that was selected for this particular body of work, in some way interacts with my childhood or what turned me into a man. The record opens up with me playing  Beethoven's "Fur Elise," with a little bit of soul as well. It leads from there and goes into another composition called "The Eternal Child" written by Chick Corea. The reason those two are important because as a kid I thought they were the same song. It wasn't until I got a little older I learned that they were two different pieces of music. Then you got from that to "Blackbird" by the Beatles.
There's a piece that I constructed called "Turmoil," which presents from when I grew up in church. People would always stomp and clap their hands, but I was having an inner turmoil going on. I have Patti Labelle singing "Promise," which is a message from my loved ones who have passed on. There's also my sing that's out now, "Searching for Answers," which was co-written by me and Montell Jordan; sung by Glenn Lewis. Montell was able to capture my whole entire story into two verses and a hook.  Everything touches my life in some way. There isn't anything on there that doesn't touch my life and my story.
What are your plans post album release?
I have things coming in. My ultimate plan is to get into as many venues as possible with the music; aside from traditional touring. I have some events in Atlanta coming up, one in Dallas that I'm going to be apart of in August, and some other events. The other idea is for me to put the music together with, for lack of better term, a lecture or some type of social inspired event.  I want to introduce people to the concept of dealing with your own childhood trauma or issues. For that, I will be working with a few gentlemen that used to be apart of the Obama Fatherhood initiative. I'll probably be moving around the country doing a lot of events.
Have you already started to think about concepts for your next album?
Yes, I actually have. What I'm developing, is the art of being able to inspire people with my own story. Another fun thing is that my baby sister was 8 months old when my father passed away. I'm one of four siblings and we were the youngest. She never had a relationship with our dad. I don't have enough to recall to say I had one either. But I'm thinking about doing a project called "The Man I Love," developing a body of music that explores the relationship between fathers and their daughters. I have two lovely daughters, a 16-year-old and a 14-year-old. Through the lens of my sister and my own relationship with my daughters, I want to put together a body of music that would represent that and show the importance of that type of a relationship.
Describe to me what's it like to be on both sides of the spectrum as a studio producer and an on-the-road musician?
It definitely has given me a well-rounded view. Often times road musicians are only given the responsibility of translating what a producer has created and producers put things together without respect to the fact that someone may have to play it live at some point. When it comes to stepping forward as an artist, I look at it as my opportunity to control the narrative. I can tell the story musically, literally, and artistically. I do it with Jill Scott every night and take the audience on whatever journey that I choose.