Kenya Moore beefing with star of 'Real Housewives of Potomac'
It has already been established that "The Real Housewives of Atlanta" star Kenya Moore had her peach snatched from her and will not appear on season 11 of the flagship Bravo reality show.
But Moore, 47, is now beefing with a star of "RHOA's" sister show, the "Real Housewives of Potomac." 
First off, Page Six of the New York Post confirms that Moore, who is pregnant with her first child with Marc Moore, was offered a "part-time [role] and she didn't want the reduction in pay. So she's out." Furthermore, Page Six reports that the Detroit-born beauty queen is working on own reality show covering her pregnancy — much the way former "Love & Hip Hop Atlanta" star Joseline Hernandez parlayed her meteoric fame into her own show on a different network.
But Moore, "RHOA's" lightning rod of controversy during her tenure on the show, is now kicking up dust with Karen Moore of "RHOP."
The dustup began when "RHOP's" Karen Huger, 54, met with cast member Candiace Dillard on their latest episode and explained Dilliard keeps bragging about her privileged rearing.
"I know that you're a pageant girl and you're very proud of that," Huger said. "You should be. But the way you present it in the conversation, you'll say, 'Well, Chris is upset with me because I can walk through the airport, everyone knows me! And Chris has just got to adjust!' Now, I'm embellishing, but that is how it comes across to everyone."
Huger continues: "This is what I want you to take from this conversation: we all are pageant queens in our own right," she tells Dilliard. "But we don't say it. What is special about you? Because there's so much more. … There's so much more to you than that. You can't tell me that's it."
But "RHOA's" Moore, who won Miss USA pageant in 1993, took umbrage at Huger classifying everyone as a pageant queen when they did not actually earn the title.

Huger, never one to turn the other cheek when she's been swung at, hit Moore with her own combination punches:
Moore fired back at Huger a few more times with this: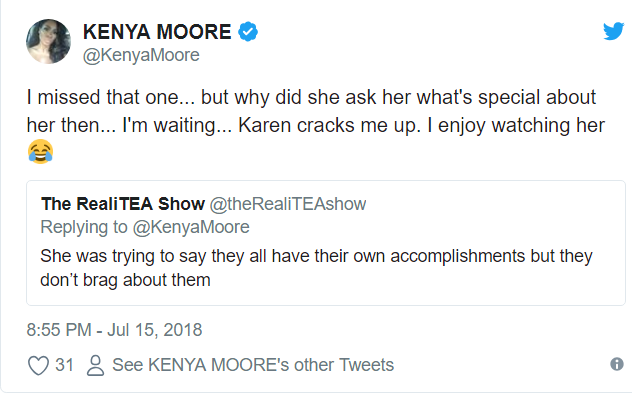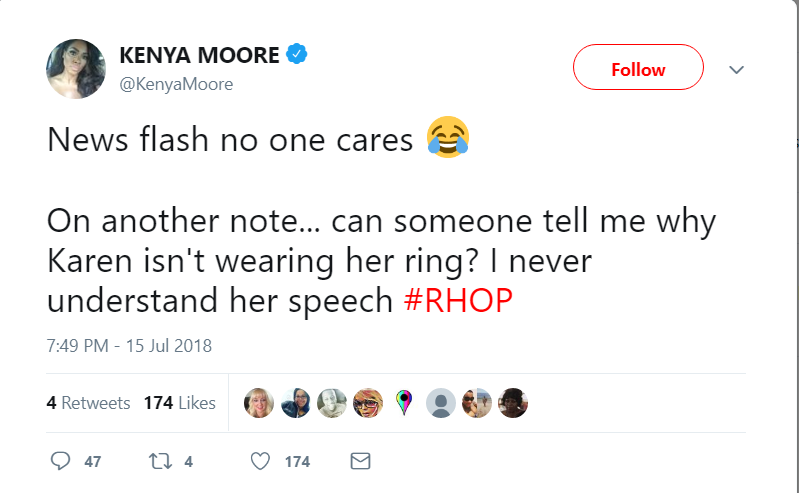 Fans of both "RHOA" and "RHOP" began firing up Twitter and Instagram about the beef, with one person saying that Moore is a "bitter" bird after losing her peach on "RHOA."
"All women are pageants queen in their own right. First time agreeing with @KARENHUGER There are so many beautiful women out there and it doesn't take one to be in a pageant to be called a queen or a beautiful lady. #rhop ladies are all beautiful. Robyn and Ashley are gorgeous," the fan said on IG:
"This is going to be Kenya's new role .. [slighting] all the other housewives because she's bitter about losing her peach😂," another fan surmised.
A third fan told Moore to fall back with the unprovoked hate: "Hey hey now. I like you, but don't come for the OG of Potomac. You knew what she was trying to say."
Meanwhile, Moore is appropriating her energies into the healthy arrival of her first baby with husband, New York-based restaurateur Marc Daly. Moore posted a picture of her progressing pregnancy on Instagram, replete with sports bra and tight workout pants.
"#BabyDaly is growing! I'm feeling much better now and baby is giving me amazing skin and I'm not having crazy cravings. Actually, I'm eating less bc baby is moving up. So far all the tests and ultrasounds say baby is healthy! Thank God. Please continue to pray for our family! #miraclebaby #weloveyou #itsnevertoolate#GodsSpeed #ThatsMrsDalyToYou#babybump #ThankYouJehovah #IVF"
What do you make of Moore starting beef with the star of another reality show?