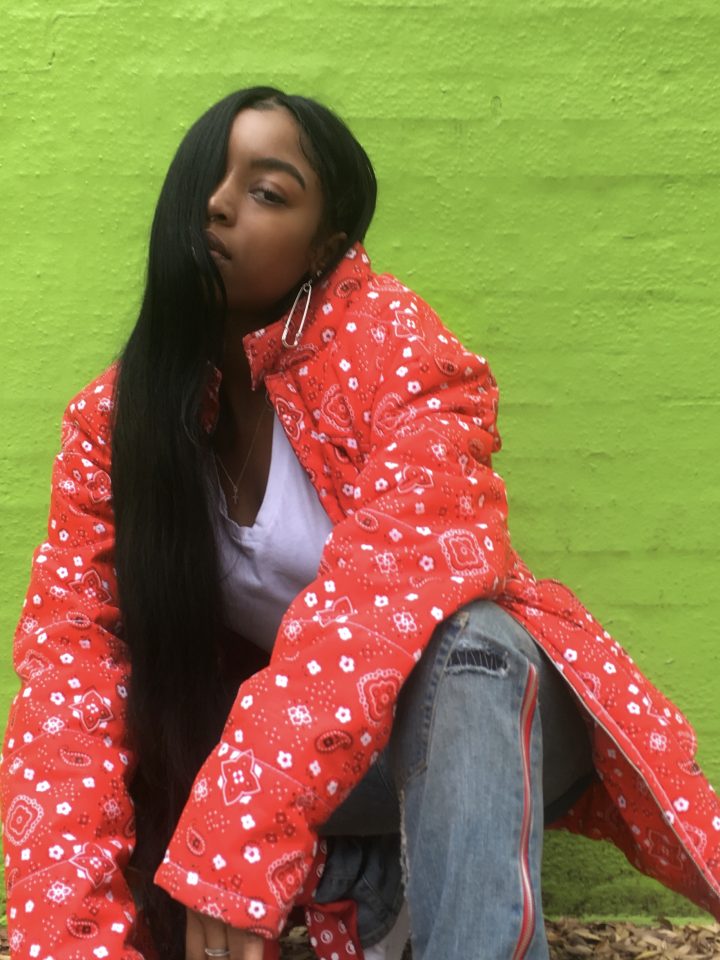 Miami native Cee Monaco is no stranger to colors, culture and an array of diversity. She began designing as early as 4 years old, turning her old clothing into custom Barbie fashion pieces. As an adolescent, she became a young entrepreneur offering the services of personalizing embellishments and drawings on her peer's clothing for money. Little did the young designer know, those skills would follow her into her future endeavors.
In 2011, the millennial designer created Tuesday Shop where she provides custom designed pieces for men and women. Building traction in Atlanta and the entertainment industry, Monaco has had the opportunity to feature her pieces and style for the likes of Sonny Digital, Que, Jerrika Karlae, Young Thug, the Clermont Twins and more. Monaco told rolling out about the pride she takes in being a millennial designer creating unique and next level statement pieces.
When did you discover your love for fashion?
I discovered my love for fashion at a very young age. I would always make clothes for my dolls and my siblings. I've always had a thing for creating, being able to make things that I haven't seen, and finding a way to make things that I like better.
What does fashion mean to you?
Fashion is an outlet for self-expression, being able to showcase how you're feeling, your current state of mind, and express that through clothing. You can always tell how I'm feeling based on the things that I design.
Tell me about Tuesday Shop.
Tuesday Shop is my baby. It is a brand that is based on originality and freedom of expression. I started it a few years back. Although I have been designing for a while, I would say that my brand is still in its beginning stages. I'm still a one-woman army, designing, sewing, shipping, shooting my own products. I'm enjoying it because it makes me hungrier, makes me push harder to reach my goals. This Fall, I'm looking forward to building a solid team to take things to a much bigger level.
Tell me about Ballroom.
Ballroom is a streetwear brand I started with a good friend of mine, Metta. Our soul message is to love yourself first and then you will be free. No matter the circumstances, no matter your financial state, love yourself through it all.
What keeps you motivated?
I would definitely say that my desire to always want to see something new keeps me motivated, and fueling my creativity. I'm always coming up with fresh designs and finding ways to be more innovative when it comes to the collections that I release.
Who would you like to collaborate with or style?
I would definitely love to do some sort of collaborative design work with or for Beyoncé, Pharrell, Solange, Adam Selman and Lady Gaga, in the future. Locally, I'd like to collaborate with Atlanta native, Chris Newton with a brand called All Friends Welcome. I love his brand and the message it represents being centered around love and support from family, friends, and progression.
What do you hope to gain from the world of fashion?
I would honestly love to gain a real place in the industry. I'd like to eventually have a bigger platform to showcase my work with the world. I can't wait to have my own fashion house and be able to be a voice for those like me who haven't had any formal training. There are so many creatives that deserve to be seen in a different light and I'm going to kick down that door for us.