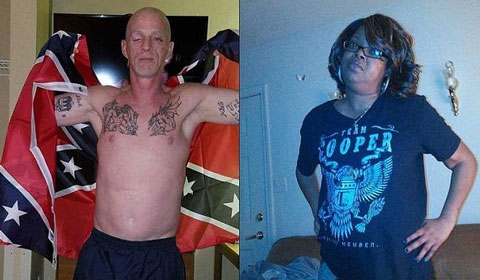 New information is coming out regarding the brutal murder of a Black mother by a one-eyed avowed racist who went out of his way to befriend her.
As previously reported by rolling out, MeShon Cooper, 43, had some sort of relationship with Ronald Lee Kidwell, 47, an avowed White supremacist with swastika tattoos. Kidwell killed Cooper and lived with her body for days before police arrested him while searching for her.
According to estranged family members, it did not surprise them that Kidwell had killed a Black person. His own daughter called him a monster who enjoyed tricking Black people into friendship before he would violently assault them. In 2011, Kidwell was convicted of sexual assault for hitting a sleeping Black woman with a hammer, forcing her to take off her clothes and raping her. He did not use a condom and told police that he was HIV positive. Despite the horrendous nature of the crime, he only served five years in prison. In court documents, he is referred to by the name of "One Eye," a moniker he has used since he lost his eye when he was attacked by pit bulls at the age 7.
Media outlet KMBC-TV reported that it was Kidwell's HIV status that he claims led to him to kill Cooper. According to a police affidavit, Kidwell became upset when Cooper stated she was going to reveal to people that he had the disease. Kidwell alleges that Cooper then pulled a kitchen knife from her purse and stabbed him in his hand and he became enraged. He would later tell police, "When I get mad, I make the exorcist look like a b—-."
Kidwell stated he was able to get the knife away from Kidwell and began punching her and stabbing her in the neck. When police questioned him, he originally stated he did not know where Cooper was before later stating that she had been killed by people from Kansas City. He finally broke down and told the truth, reportedly telling police that he "would never be released from prison."
He then led the officers to Cooper's body, which was wrapped in trash bags and inside a trash can in his garage. A neighbor described Kidwell's actions as a hate crime, however, like many states, Kansas does not have a hate crimes law. Fortunately, because of the nature of the attack and Kidwell's affiliations with the Ku Klux Klan and Aryan Nations, the FBI is now involved.
The FBI will determine if federal hate crime laws were violated and if Kidwell could face federal charges. Currently, Kidwell is charged with second-degree murder and is being held on $1 million bond.