Trayvon Martin's parents blast George Zimmerman and stand with Kaepernick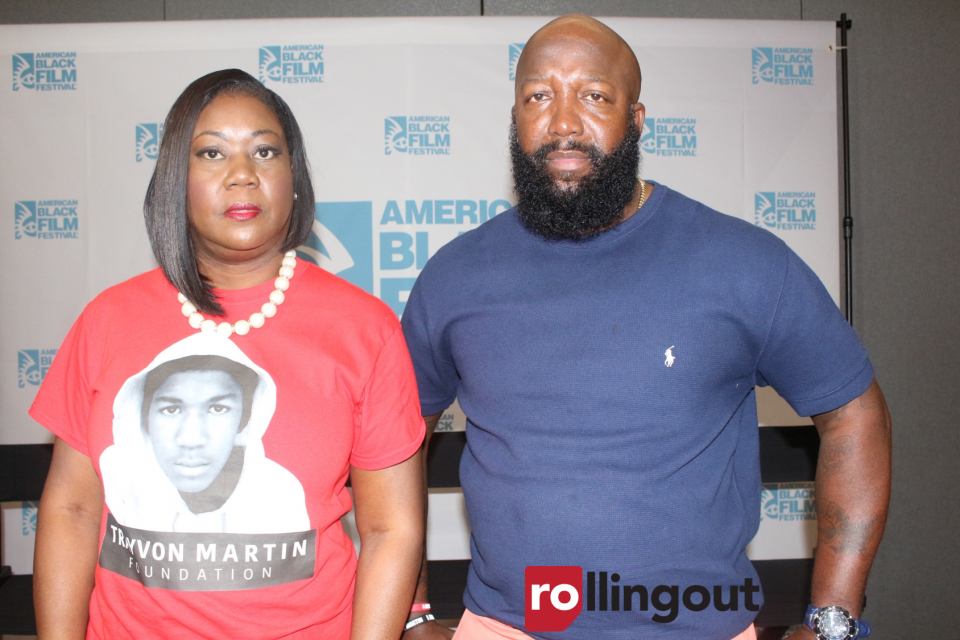 The murder of Trayvon Martin served as a brutal reminder of how the justice system continues to fail Black victims. Martin, an unarmed 17-year-old, was killed by George Zimmerman while on his way home in 2012. Zimmerman racially profiled Martin, but he was acquitted of all murder charges after he used Florida's "Stand Your Ground" law as a defense.
Following Martin's death and the subsequent acquittal of Zimmerman, Martin inspired a nation. The Black Lives Matter movement was born as millennial activists became important voices for this generation's human rights issues.
The issue of racial profiling moved to the forefront as unarmed Blacks continued to be killed for simply being the wrong color.
Martin's parents, Sybrina Fulton and Tracy Martin, teamed up with Jay-Z to tell their son's story. Jay-Z serves as a producer of the documentary Rest in Power: The Trayvon Martin Story.
Fulton and Martin recently sat down with rolling out to share their thoughts on race in America, Colin Kaepernick and their son's legacy.
The book, Rest in Power, was released one year before the documentary. Why was it important to create a visual companion piece to tell this story?
Sybrina Fulton: It's very important. A lot of times people fail to realize that it could be anyone's child. It could be any parent, and anyone could be sitting in our seat, so we just have to stay aware and stay woke. We have to stay active and make sure that we're participating in our community to try to make a positive change.
Years after the death of Trayvon Martin, how do you cope, and what advice do you give to other parents who have lost a child? 
Martin: First and foremost, you have to come to the realization of how a good relationship with God plays a huge part in this. We're God-fearing people, and we know that without God, we couldn't have gotten through this. We just hang on to the memories we have of him. That really inspires us to continue doing the work that we do in his name. Any parent would want to create something in their child's name and have it to [last], so there's a lot of work that goes into it. The projects that we create are a huge product of what we didn't sign up to do as parents, but we're at this point, so we continue to do the work. My son was murdered, he was taken away from me unjustly. One thing that I won't let them take away from me are the memories that we shared. You really just have to try to find a support system, surround yourself with good people and continue to pray.
Colin Kaepernick was very vocal about taking a knee during the national anthem for individuals like Trayvon who were killed without repercussions. Kaepernick inspired other NFL players to take a knee for Trayvon. How did that gesture make you feel?
Fulton: That was a courageous act by Kaepernick. I think it's important for the entire NFL to understand that this is not just an isolated incident. This is happening across our country. This is our problem, this is not just somebody else's problem. We do have to keep staying woke. A lot of those NFL players, they have kids themselves, and they don't want to be placed in a position where they'll have to fight the justice system in order to try to figure out what happened with their child. My son was 17 years old, he was unarmed, he was chased, profiled, pursued and murdered.
How do you want the documentary, Rest in Power: The Trayvon Martin Story, to have an impact?
Martin: We know that this film may be very inspirational and very educational. We definitely want this to hit a variety of people and a diversified crowd. We know our struggles, and we know this is a time for us. No matter what your struggles in life are, no matter how down you get, you can come from behind the shadows and do something positive.
Fulton: I want this documentary to speak to people who have lost children to senseless gun violence. I want to speak to people who have lost their child through an illness, car accident, suicide or whatever the case may be. I want this documentary to speak to those people. This too will speak to your heart, and so we just want people to remember Trayvon Martin and his legacy. We want people to always stay aware of how dangerous gun violence is and how people will perceive you for the color of your skin and not necessarily for your character.