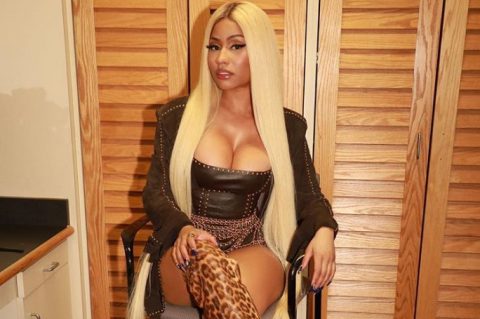 Nicki Minaj and her former flame Safaree Samuels, whom she dated for almost 15 years, went to war on social media on Tuesday (08/14/18) after he accused her of "cutting" him so bad during a blazing row that he almost died on numerous occasions. The 37-year-old rapper fumed: "Remember the night you cut me and i almost died the police and ambulance had to take me out the crib on a stretcher and I had to lie and tell them I was trying to kill myself so they wouldn't take you to jail. When things like that start happening more than once it's time to dip.
"And you know what I still don't have no hate for you cuz I'm happy in my own mind now. Enjoy your album dropping. And stop letting these ppl see you sweat. This ain't you. You too big to act the way you be acting. No1 on ur level acts like that. Period (sic)."
He then accused her of cheating on him with Meek Mill – whom she dated from 2015 until 2017 – before claiming things got "toxic" between them and he "packed up and left."
He added: "We know each other inside out. Everything there was for us. I didn't use your card for prostitutes. We both didn't trust each other. You did sh*t I did sh*t. You said you were messing with meek a few years b4 y'all got together and I'm not mad at that.
"Towards the end it got toxic and I just packed up and left.
"I did things for spite and so did you. I don't wish you bad and I don't want us back together just like I'm sure you don't. I don't need you, you don't need me but we will always be linked in the public no matter what. (sic)."
However, the 35-year-old beauty wasn't prepared to let her ex bad mouth her on social media without dishing some dirt on him. She hit back: "U stole my card & told me you thought it was an account with "free money" that I didn't know about. On God. God will strike you down & more for lying. Ha! Stop saying u packed & left ! On Jesus u came to my house CRYING BEGGING to go w me to Europe to the EMA's. I said NO DUMMY (sic)."
Sarafee replied: "How was I begging to go to Europe with you and you were in a full blown relationship towards the end of ours? I knew it a wrap. I still have the email when you hit me saying let's spend Christmas together and work things out so please stop."
Nicki then claimed she paid for him to have a hair transplant to fix his receding hair line but, unlike fellow rapper Tyga, his locks fell back out because "God don't like ugly."
She fumed: "I should've never paid for that gyatDamn hairline!!!! It fell back out cuz God don't like ugly!!!! You used me but God had other plans!!!!! "Tyga sh*t ain't fall back out!!!! Y'all went to the same doctor!!! Yours fell out cuz GOD DONT LIKE UGLY!!!!!! (sic).
"Btch you hit me & meek asking us to get your d**k pic back from someone. Lol. You were playing with ur dick in the shower by urself with suds & sh*t. I have the email where u said you couldn't pay ur electric bill & why you lied on me but go AWWFFF SIS! (sic)."