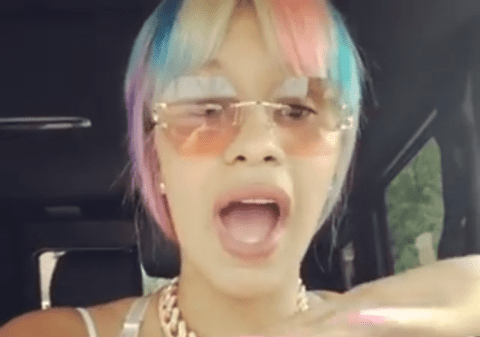 Young Money queen Nicki Minaj came out firing with both barrels on Monday, Sept. 10, following the infamous brawl between her and Cardi B — the world's two most famous female emcees — that popped off during New York Fashion Week.
The hip-hop diva seethed with rage during the "Queen Radio" broadcast in a tirade against her rap archrival, saying that Cardi B "needs help" because she's going to war with women instead of being angry with her own man, rapper Offset of Migos, for his serial philandering ways.
Minaj also took to her Apple Music show to expose Cardi for allegedly sending racist messages to a woman on social media about her dead child and sending goons to strippers. Minaj said she is going "to get into some things" because the Pink Barbz is "tired of people f—ing lying on me."
Instead, Minaj went on the attack, saying she has "receipts" of Cardi talking bad about someone's dead child to her face and also calling Black women "roaches and monkeys."
It is open warfare now.
Listen to this red-hot radio rant that was captured by SOHH.com (Warning: NSFW).