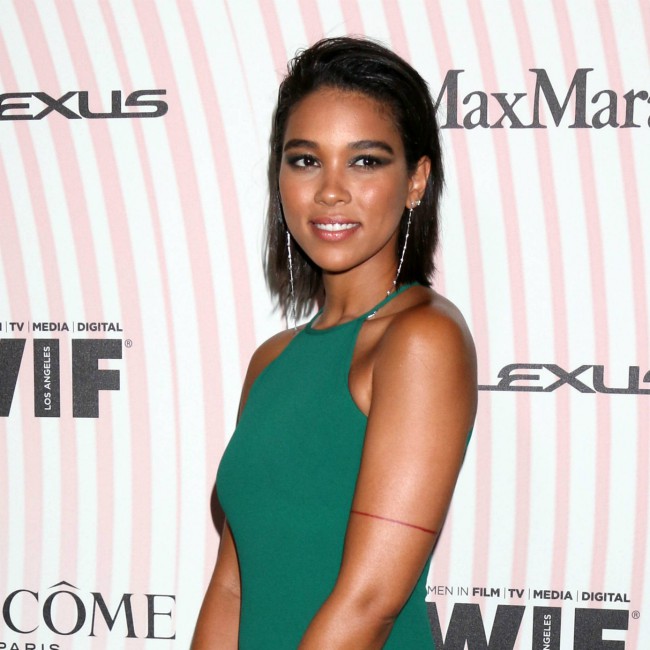 Alexandra Shipp believes "colorism" is still prevalent in Hollywood.
The X-Men: Apocalypse actress insists it is a "real thing" that
directors feel more comfortable offering her a lead role than they would a darker-skinned actress, and she finds people are not afraid to ask her "offensive" questions because she's mixed race, but she wants to use her position to "educate" others.
She told Elle magazine: "In this industry, there's a reality when it
comes to colorism I know that a studio or director is going to feel more comfortable with me in a lead Black female role than they would with someone of a darker complexion. That's a real thing.
"So with this Afrocentricity we're now seeing in film, we're getting a chance to show more representation. I am not every shade of Black. I can't play every shade. I haven't had the same experiences as every person.
"And being biracial, I walk this strange grey area that makes people comfortable asking me questions they don't think are offensive, even though half the time they are. Most people are afraid to ask a dark woman about her hair, but they're not afraid to ask me. It's weird, but it's something I think I can use to educate people."
When she was growing up, the 27-year-old star was inspired by the likes of Eartha Kitt in Boomerang and Dorothy Dandridge in Carmen Jones.
She said: "These powerful women gave me a feeling I could be strong like them. I wanted to play a knight in Camelot rather than one of the handmaids. I wanted to play Othello.
"Those women did that. They were fearless, they were also brown and looked like me. Even in a supportive role, they stole the show."
And these days, Alexandra is happy to talk "about the hard stuff"
after observing the likes of her A Dog's Way Home co-star Ashley Judd.
She said: "I think it took a generation saying, 'You shouldn't have to deal with the same kind of crap that we did.' I learned a lot from Ashley. She has a calm power about her that I'd like to find in myself."