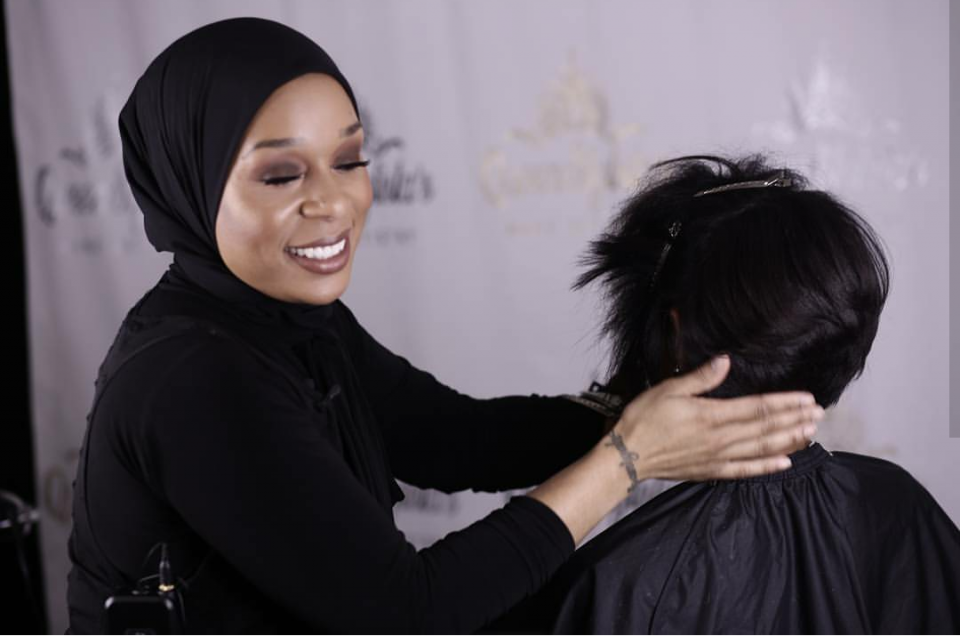 Sheena Dickerson is a God-fearing businesswoman who has been gifted with many forms of artistry, but hair is her calling.
Born and raised in Philadelphia, Dickerson has been doing hair since she was a young girl. Today, Dickerson is the owner of QueenStylista's Mane Artistry salon. As a Muslim woman, her love for hair places her in a unique position of acceptance by both beauty professionals and her Muslim faith family.
Dickerson spoke with rolling out about how she is a champion for Muslim women in the beauty industry.
What was the driving force behind opening QueenStylista's Mane Artistry?
The driving force behind creating QueenStylista's Mane Artistry salon was my children and [a] lack of professionalism I noticed in Black-owned salons. I wanted to create opportunities for my children to help them to grow and learn the business. It was my goal to provide a better life for them. I don't come from a family of business owners, so my salon is definitely something I want my entire family to be proud of. When it comes to "professionalism," I feel like it's a dying concept. Too many business owners are careless in their interactions with their customers. Opening my salon, I knew I wanted to create a place that wrapped an invisible welcome blanket around people soon as they walk in. Customer service is important to me, and I want my interactions with current or possible clients to be impactful.
Why do you feel that it is so important to have Muslim women represented in the hair and beauty industry?
Muslim women are overlooked because we are not the beauty industry standard. Our religion does not take away from how dope we are as artists. There are so many Muslim stylists that go unnoticed and even more Muslim women that need our assistance. Someone has to be the voice for our Ummah (Muslim community) because we have hair that needs care and maintenance like everyone else.
What are your thoughts on taking risks? Making mistakes?
Taking risks shows courage. I feel like making mistakes allows me to grow as a businesswoman, an artist and a person. When I was starting out, I really didn't have anyone that I could talk to and get advice from. I made a lot of mistakes along the way and still make mistakes, but they are the life lessons that I can share with someone else that may make their journey a little easier.
What are three success habits you implement into your daily routine to maintain your success, sanity and peace of mind? 
Prayer is at the top of the list. Without my Lord and my personal connection with him, I wouldn't be here. Prayer keeps me grounded, with the understanding that what's for me won't miss me. When life happens, whether good or bad, I try to acknowledge that.
[Second is] having a plan for my day and trying to exceed it. Having a plan keeps you motivated even if it's for a day, and it allows you to use your time wisely.
[Third is] finding balance in my life. No, I'm surely not perfect. I get in trouble all the time for either bringing work home or allowing business to take over my days off, but I'm working on having a balanced life. Setting boundaries between work and personal takes practice, but it will save your life.
As a successful woman, what has been your greatest achievement?
My proudest achievement thus far definitely has to be my classes. I have to be honest: Teaching was something that I did not want to do, but I knew I would be called to it. Teaching takes me out of my comfort zone. I hate people gawking at me and critiquing my work. I'm so happy I stepped out on faith and I'm very proud of myself for doing so.