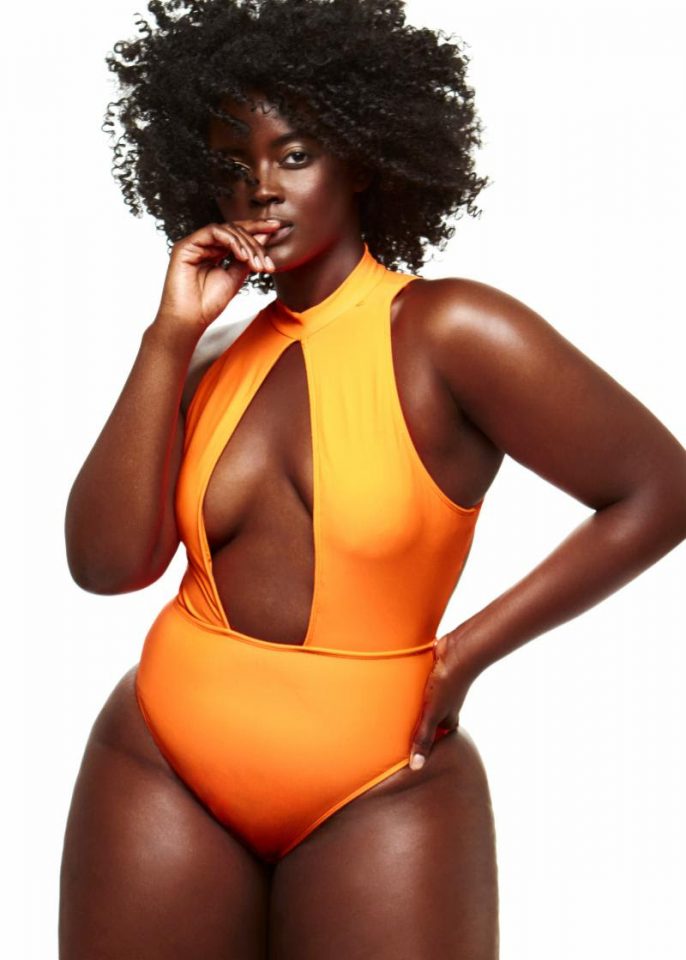 Standing at a statuesque 5'10, with a flawless melanin-enriched skin, Philomena Kwao is a woman with a unique name that matches all of her unique qualities. This Black British girl has a soul deep-set in rich Ghanaian culture and family ties. After moving to the United States to pursue modeling, her unique blend of size and beauty became a sought-after commodity. More than just your typical runway Barbie, she is an activist, author, and role model. Kwao told us about the importance of minority representation and breaking barriers in the fashion industry. 
How do you identify yourself in terms of race and what does that mean to you?
The term that we use is Black British. It just means that I am a Black person born in the UK and have a British passport. We do have our own culture, which is a beautiful fusion of many aspects of the diaspora, many African countries, many Caribbean influences, and African-American influences. They are all fused together to form our own slang, music, and its usually first, second, third, fourth generation immigrants.
What was it like growing up in the United Kingdom while having Ghanaian roots?
The beautiful thing about the UK is that geographically it's very close to the African continent. Even though I was born and raised in London, I had a sense of community and I really felt like I was back home. I grew up in a very strong Ghanaian community almost exclusively. We spoke the language inside and outside. We ate the food. And we carried on the customs/traditions of home. I find that in the UK there is a very heavy presence of culture from other countries. I would argue that the way my parents were raised in Ghana and the way I was raised was the same. Aside from the lands being different, the heart was the same.
How did you get your start in modeling?
I started modeling when a friend entered my photo into a modeling competition. I went in because the agency at that time was looking for plus-size models. I won that competition and the rest has been a beautiful story ever since.
You've broken barriers in fashion being a plus-size model. Tell me a little about your experiences. 
Across my journey as a Black plus-size model, it has been generally positive. I have been very blessed and I'm very grateful for the opportunities presented to me because Black plus-size models aren't readily represented in the fashion industry. The U.S. is a much bigger market for plus-size women, but [when] I moved to here, I didn't work for a year because I wasn't the standard of beauty. I was a dark skin, plus-sized woman with a shaved head. It was almost everything I wasn't supposed to be rolled into one. Then Lupita [Nyong'o] became famous and recognized as a standard of beauty. As soon as she shot up, the clients wanted a plus-size version of Lupita and my career went from zero to 100 overnight.
Why do you feel that it is important to have diverse representation on the covers of mainstream magazines?
Representation is so important because it makes each of us feel like we belong. Growing up as a Black girl in London. I remember being affected by colorism. In music videos and films, I always saw lighter skin women. This led me to skin bleaching and other harmful practices towards myself because I was trying to achieve that. Had I seen darker women being celebrated as beautiful and powerful, I don't think I would've gone down that route.
You have written a book called The Queen In Me. What prompted you to write this book?
Yes. It's a children's picture book that will be out later in the fall. It really does concentrate on celebrating darker skin-tones and more African features, because [girls] are not seeing themselves represented. Young girls are being bombarded by images of a particular standard of beauty. When you have a diverse representation in terms of shape, size, age, ethnicity, you really do broaden the standard of what it means to be beautiful and it helps people see themselves in a positive light.
Aside from being a beautiful model on the cover of magazines, you are a very well-educated woman with two degrees. 
I have a Bachelor's Degree in Economics and a Master's Degree in International Health Management. I always wanted to be a doctor when I was younger. But after completing an internship, I realized the clinical side wasn't for me. I always have been very passionate about health because I believe the strength of a nation is the health of its people. Had I not gone into modeling I would've have liked to join the United Nations and affecting healthcare policies in developing countries.
You are a global ambassador for Women for Women International tell me about your work for that organization?
It is an organization that primarily works with women who are in conflict-driven areas like Nigeria, Iraq, Afghanistan. These are women whose lives are already very difficult because they are women living in these areas. They deal with issues of misogyny, food instability, safety. The organization aims to empower these women by putting them through a 12-month program where they are given innumerable skills, a stipend and taught a trade. Later this year, I will be going to Nigeria to visit the women who have gone through this program and to see the graduation.