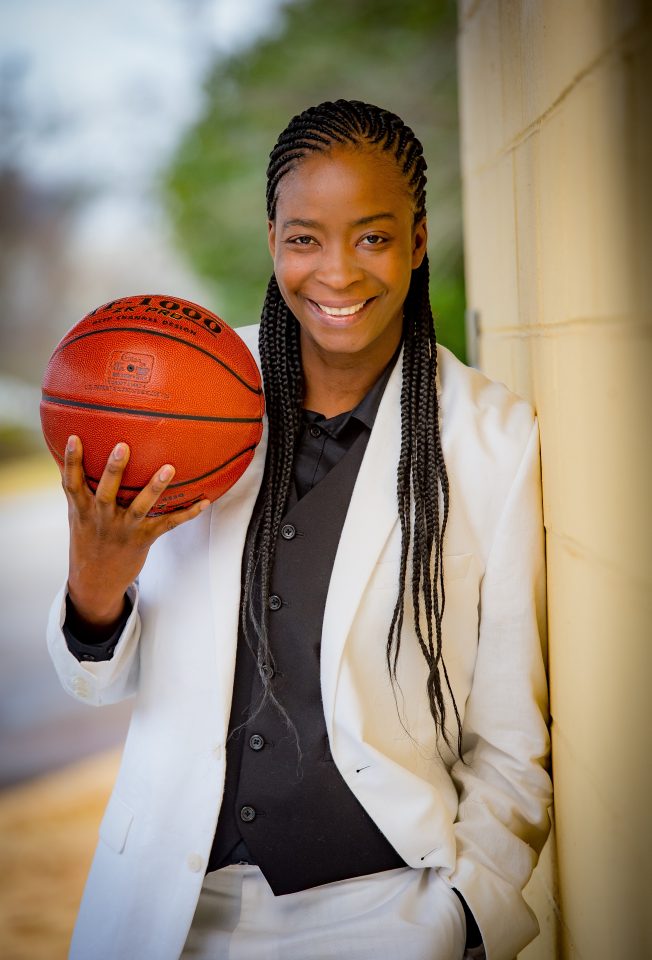 Basketball player, community leader and writer, Simone Edwards is a woman who does it all. Born and raised in Kingston, Jamaica, she became the first Jamaican player to be signed to the WNBA. She garnered many awards and traveled the world during her career in basketball. Aside from her talent on the court, Edwards is committed to community service and philanthropy. Her nonprofit, Simone4Children Foundation, works to educate and uplift children and prevent bullying.
Simone4Children Foundation was founded in 2000 as a 501(c)3, and in partnership with Food For The Poor, donated an educational building in Kingston, Jamaica. Simone4Children provides ongoing support including school supplies, clothing, and food to underprivileged children with special focus in promoting education, self-esteem, anti-bullying and social skills. The ongoing homework program helps children with their academic work. Edwards was inspired to start the foundation because she wanted to give back to poor communities and support issues of purpose.
In 2015, Simone4Children Foundation created the Anti-Bully Project, a global initiative to promote anti-bullying and self-esteem. Inspired by the bullying that she experienced from childhood to college, Edwards has become a champion in the fight against bullying. Edwards travels the globe through her the Anti-Bully Project Empowerment tour, speaking to thousands of teens and women about her incredible personal stories of bullying, success, failure, persistence, hard work, and the events of her life.
Edwards loves to inspire through motivational speaking by sharing her stories of triumph and defeat. Her passion for helping others led her to create a creative content company for literature, television and film. Through this company, she recently published her own book, Unstoppable. In an exclusive interview with rolling out, Edwards shared how she accomplished her goals and details about her book.
Why did you write this book?
To reveal the harsh realities of growing up in an impoverished, gang-infested village in a third-world country, and how I was able to find the inner strength to maintain hope in the face of opposition.
What's the story behind the title, Unstoppable?
Initially, the book was titled Rise of the Jamaican Hurricane, my nickname in the WNBA, but that will be the title of my film adaptation. Since the premise of my life story was persevering despite obstacle after obstacle, that defined being unstoppable.
 What do you hope readers will glean from reading your book?
I hope readers will feel unstoppable by taking on life's challenges knowing that one's circumstances do not dictate one's future.
What was your regimen to complete this book?
Firstly, I was able to partner with the talented writer and cultural researcher, Jobi Tyson, who was certain that there was something magical about the ability to transform unbearable circumstances into beautiful scenes that reveal a deeper truth. She was able to unfold my legacy through my eyes and voice, in addition to interviewing over 50 people (characters in the story), and was effortless on pulling the story out of me and remind me of things that I had bottled up for years.
Life after basketball – I mapped out my goals based on my passion. I am the co-founder of Diverse Writers Room (diversewritersroom.com), a content creation company, along with Jobi to develop unrepresented stories in television, films, and documentaries.
I have also traveled throughout the world as a motivational speaker to share my story to inspire others as well bringing the high-performance sport of basketball home to each of us in our daily lives. I am also the founder of SimiFitness as a fitness motivator that trains and develops basketball players or thru reggae-inspired fitness boot camps.
Who are your role models?
One of my role models is my mother. Her belief in God and hard work taught me resilience.
If you could change one thing about the world, what would it be?
If I could change something about the world it would be the mindset of people who think they are better than others because of their differences in an effort to make the world more loving and kind.