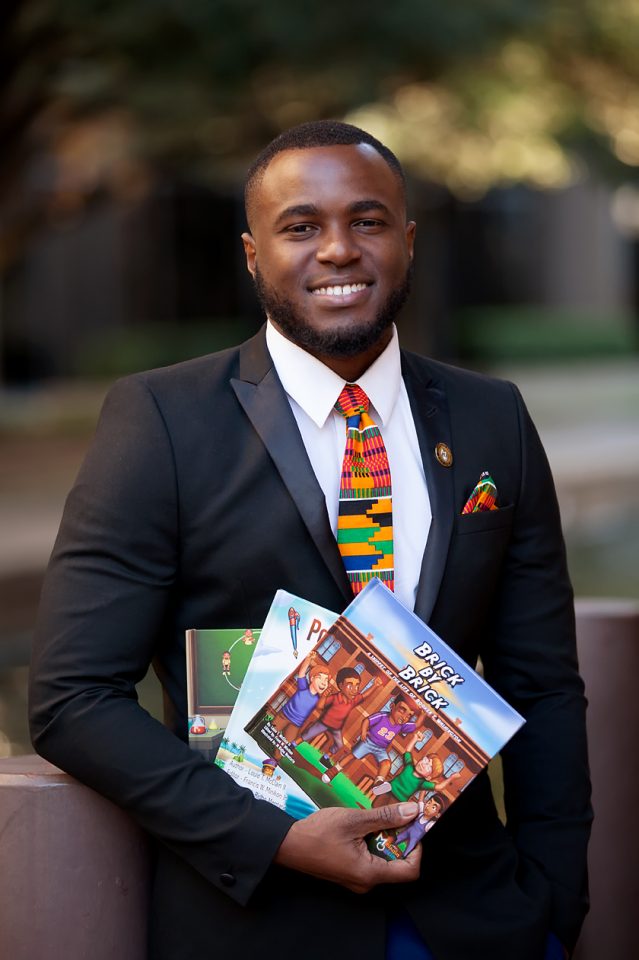 Louie T. McClain is the founder of Melanin Origins, a children's book publishing company focused on publishing authors who teach Black children about the great leaders, teachers, and inventors who share their ancestry. As a single father of two, McClain often hears the struggles women face as single parents, but rarely get to hear it from a male perspective.
Here, he wanted to share single parenting from his point of view.
What is your backstory?
Louie T. McClain is a visionary at best. I have a B.S. in Criminal Justice and I am a proud, single father who wants the best for all children of color, not just mine. My belief is that the more they know self, the farther they can go in life, which is why Melanin Origins is so important.
How did you arrive at your career? Was a deliberate decision or was it a gradual evolution?
In addition to being the CEO of Melanin Origins, I am in the training department at an aviation company. Six years ago, I was unemployed for a few months after getting laid off from my career job as a juvenile supervision officer. I filled out application after application and continued to be denied. My current employer reached out with a job offer as a customer service representative making $6 less than what I was making at my last job. I accepted it, used the skills I had already gained from past work experiences, learned more skills on the job, excelled, and received promotion after promotion. In less than two years, I was in a management position making three times more than what I started making. Now, before I was laid off a few years ago, I successfully operated a nonprofit organization that connected ex-offenders with jobs, but I told myself that my next venture would be for profit. Fast forward to regaining my financial stability with the aviation company, the idea of Melanin Origins came to me after learning more about the accomplishments of Black people in history (post-slavery). We believe that African American children will do well with the proper implementation of culturally responsive pedagogy.
What is Melanin Origins and why did you feel it was important to create it?
Melanin Origins is a children's book company that has many facets. We have books for children, curriculum for schools with assessments, cartoon shows, reading programs, and we publish others globally. Our mission is to provide quality educational materials that inspire children to aspire for excellence while embracing their heritage. Our sole focus is to write children's books about lesser-known African American pioneers. It is of extreme importance that African American children see proper representation of historical innovative leaders in their books and learning materials and have a proper understanding that they also have the ability to accomplish great things as well.  We believe the same is true for every race and ethnic group as well. This is why we created Melanin Origins.
What is the story behind the name Melanin Origins?
Our name: melanin is a word that is deeper than what many people may think they know, but it is commonly used to signify people of color. Every human has melanin in them, but Black people just happen to have the most amount of melanin. So, our usage of it is in reference to people of color. Origins is a reference to "the beginning" or of being the first to do something. Our company name Melanin Origins, therefore, is about highlighting people of color who are pioneers, leaders, and innovators so that children can see that they have the ability within them to be just as great!
What type of books do you publish?
We are currently finalizing our series on African American pioneers such as Booker T. Washington, Ida B. Wells, Madam C.J. Walker, Marcus Garvey, etc. However, we also publish books from other genres that any aspiring author has an idea about. So, we have our own branded series and more series to come, and we also publish the work of others
What is the hardest part about being a single father?
I have full custody of my daughter, and it is a major blessing. I don't have the leisure that I prefer to make the moves I want to make all the time, but that's minor. Knowing that my baby is safe, in good hands, and healthy greatly outweighs my desire for leisure. There are also things that a mother could teach a daughter better than a father, but that's not even my major concern because I know that God has wonderful women around me (my mother, sisters, cousins, and friends) that are available to assist. The hardest thing would simply be having the time to provide the necessary structure for my daughter while I am managing other things such as Melanin Origins. So much work, studying, networking, researching, etc. goes into the desire to build generational wealth and uplift your race. Sometimes I get off work, pick her up from daycare, give her a meal, do Melanin Origins work and look up and its already bed time. A wife/partnership would be very helpful, and that is the goal to ascertain true love and perfect the black family unit.
Why do you feel that it is important to provide a male perspective on parenting?
I'm honored to share my perspective and I believe that it's important because our voices are lost and sometimes even belittled and shunned. Too often within our race, the narrative about black men is holistically negative, but there are so many hardworking brothers who share my story. We are not perfect, but we exist. We love black women and we care about the welfare of our children so much so that we fly above expectations to have the strongest bond with our children and to be the primary influence on their welfare.