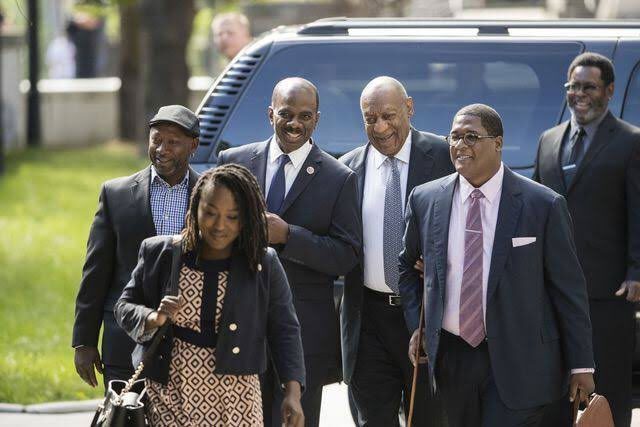 Famed comedian Chelsea Handler pretty much summarized the sentiments of many Americans about Bill Cosby's purgatory when she spat out this hilarious (and heavily ironic) thought on Twitter:
"Bill Cosby is set to serve 3 to 10 years in prison, but when he's released he's expected to be nominated to the Supreme Court," tweeted the former comic host of her own eponymous talk show.
Handler was making an obvious reference to Donald Trump's nominee for the U.S. Supreme Court, Brett Kavanaugh, who is under siege after three women have come out and accused the judge of sexually abusing or assaulting them many years ago. Despite the growing circumstantial evidence against Kavanaugh, powerful politicians including Trump are bashing the sexually abused victims and have guarantee that Kavanaugh will be the next Supreme Court judge.
Debra Messing also mentioned Kavanaugh when she admonished the public to start believing the female victims of these alleged crimes and value women more. She tweeted: "Today a PA court deemed #BillCosby a Violent Sexual Predator b4 sentencing him. For decades people maligned &decried his accusers as LIARS. It took 60+ accusers 2 finally bring his survivors justice &vindication. Have we learned nothing? #IBelieveDrFord #IBelieveDeborahRamirez."
Even male broadcaster Keith Boykin commented on the hypocrisy about the treatment of Cosby versus Kavanaugh: "Bill Cosby sentenced to 3-10 years for sexual assault that took place years ago, but Brett Kavanaugh can still go to the U.S. Supreme Court without even an FBI investigation into sexual assault allegations against him."
Activist Amy Siskind kept spitting up Kavanaugh's name on social media: "Who said the Universe doesn't have a sense of humor: amid Trump and the GOP's defense of Kavanaugh that allegations happened decades ago, Bill Cosby is sentenced to 3 to 10 years in prison for something that happened decades ago," she said.
Many people are outraged that Cosby is the first big and powerful personality to go to prison during the revolutionary #MeToo movement when you still have the likes of Matt Lauer, Harvey Weinstein, Charlie Sheen, Kevin Spacey and other superstars walking the streets.
Others, like actress Amber Tamblyn, feel the punishment does not fit the crimes that Cosby committed against (allegedly) scores of women over the course of decades.
As an outspoken advocate of both the Time's Up and #MeToo movements, Tamblyn wrote this on Twitter: "Bill Cosby has been sentenced to 3-10 years for drugging and sexually assaulting many women over the course of many years."
Tamblyn, 35, who starred in Sisterhood of the Traveling Pants, added this: "His survivors have been sentenced to a lifetime of brutal memories and trauma for daring to exist in the first place. Super fair I guess."
Of course, no celebrity scandal is complete without the ubiquitous Gloria Allred, the self-appointed attorney to the stars, chiming in.
"This is a very important day. Judgment day has come," Allred said on CNN. "We're so very proud of what law enforcement did to make sure we had a just outcome."
Do you agree with any of the celebrities who spoke on Cosby's fate? How about U.S. Supreme Court nominee Brett Kavanaugh, who is being accused of sexual improprieties?