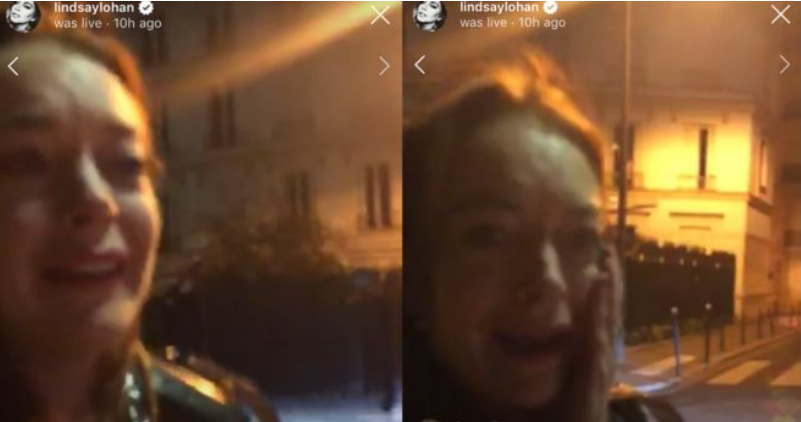 Troubled actress Lindsay Lohan was punched in the face and fell to the ground after she accused Syrian refugee parents of trafficking children and attempted to take their children.
The Mean Girls actress was in Moscow this weekend when the former child star filmed the bizarre "trafficking" incident on Instagram Live, TMZ reported.
The episode began innocuously enough when she began the IG Live stream.
"Hey everyone I just want to show you a family I met, a Syrian refugee family. I'm going to introduce you to them," she said as she stood over them in the street and filming.
Things suddenly went left for Lohan, 32, when she accused the Syrian parents of human trafficking their two boys as the parents took their belongings and tried to walk away.
"Guys, you're going the wrong way, my car is here, come," Lohan yells at the children who continue to follow their parents as she chases them down the street. "They're trafficking children. I won't leave until I take you, now I know who you are, don't f— with me."
As she walked behind the family, Lohan began shouting Arabic phrases at the mother and father and interchanging it with English.
"You're ruining Arabic culture by doing this. You're taking these children; they want to go," she said before yelling at the boys, "I'm with you. Don't worry; the whole world is seeing this right now. I will walk forever. I stay with you. Don't worry."
Lohan then made the mistake of trying to grab one of the kids and said, "Give me your hand." That's when the mother yelled at her in her native tongue and punched Lohan in the face, knocking her to the ground.
After unscrambling her brain from eating the mother's knuckles, the video ends with a crying Lohan gasping, "I'm like in shock right now; I'm just like so scared."
Watch Lindsay Lohan's Instagram Live recap of the episode by clicking here.