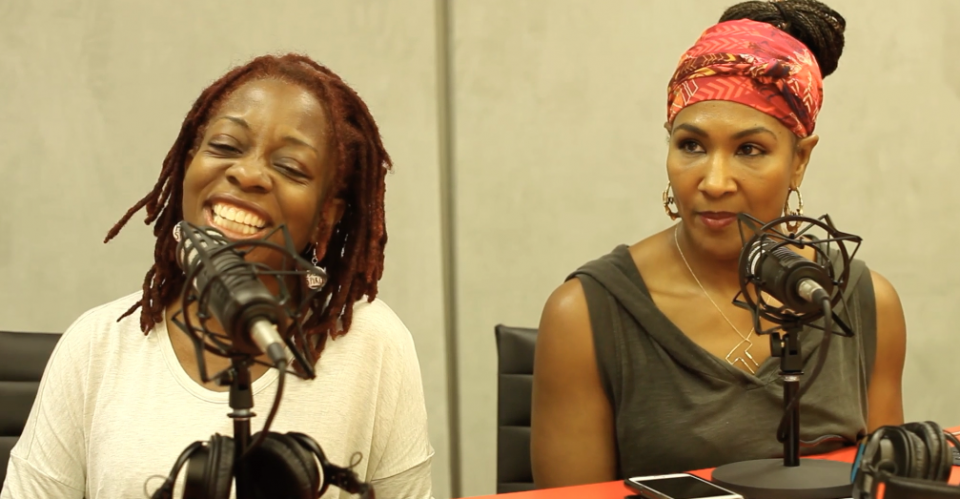 Award-winning and record-breaking actress-producer-director Terri J. Vaughn knows how to light up your TV set, whether she's in front of the camera or behind it. Or sometimes both.
The ever-photogenic Vaughn already demonstrated this ability on her own when she played the charismatic Lovita Alizay on "The Steve Harvey Show" and later as a sharp-tongue nurse on "Tyler Perry's Meet the Browns." Now as part of the hot production team Nina Holiday Entertainment with partner Cas Sigers-Beedles, the two broke TV One viewing records with the airing of the heart-pumping 2017 romance thriller When Love Kills starring Lance Gross for which Siger-Beedles wrote the screenplay.
Vaughn and Sigers-Beedles also broke records on another station with the blockbuster TV One comedy Girlfriends Getaway in 2014 that starred Vaughn, Garcelle Beauvais, Essence Atkins and Malinda Williams. The film set TV One viewing records as the No. 1 TV One original movie debut telecast ever among adult women ages 25 to 54. It was so successful that it spawned a hilarious sequel, Girlfriends Getaway 2, the next year.
Through Nina Holiday Entertainment, the duo also created the movie Between Sisters, which became the highest-rated show on GMC Network, and "Sugar Mommas," which was nominated for a 2013 NAACP Image Award.
And this year, Vaughn and Sigers-Beedles created fire with their popular podcast "I Look Good Naked," a hilarious and provocative show that tackles complex subjects.
Right now, the production pair is hotter than ever. This type of heat will thaw the winter chills enough to view the holiday season unveiling of Siger-Beedles and Vaughn's next movie venture, the David and Tamela Mann-powered film Merry Wish-mas. For this one, Sigers-Beedles wrote the screenplay, and Vaughn will make her TV One directorial debut.
Merry Wish-mas is a warm romantic comedy that revolves around Kenni (Tamela Mann), who has avoided the annual holiday trip to her hometown of Columbia, South Carolina, for years. While she is hoping for the best, there are unresolved issues lingering that could make the holiday not so bright.
You know the Mann duo is going to bring the heat to any venture they enter into. Combine that spark with Vaughn and Siger-Beedles' track record of weaving together a provocative and entertaining story, and fans are expecting another hit movie.
"Heartwarming stories like Merry Wish-Mas that bring families together and make us laugh are as much a part of the season as Christmas trees and Santa himself," said Vaughn. "And this movie, touching upon family conflicts, singlehood and love, money woes and wishing for Christmas miracles, is set to become a highlight of the coming holidays."
"And it is not so heavy," Siger-Beedles added. "I think the times are so heavy, and of course with the change of the times, the demand for faith-based entertainment has gotten greater."
The success of these projects has catapulted the dynamic divas to the forefront of in-demand producers and screenwriters.
While Siger-Beedles, an author of seven novels, has always been comfortable creating magic behind the scenes, Vaughn is used to being in the spotlight. After starring on the "Steve Harvey Show" in the late 1990s, Vaughn made her way to Will Smith's executive- produced "All of Us" as Jonell and then as the quick-tongue nurse Renee on "Tyler Perry's Meet The Browns." Vaughn has also been seen as Melisse on Oprah Winfrey's drama series "Greenleaf," and featured again as Cedric The Entertainer's wife on BET's "The Comedy Get Down."
Vaughn has been honored with three NAACP Image Awards for Outstanding Supporting Actress for her work on "The Steve Harvey Show." She was also nominated for Outstanding Supporting Actress in a Drama Series for her work on the groundbreaking series "Soulfood." The critically acclaimed Sigers-Beedles, on the other hand, earned an NAACP Award for Outstanding Writing for her work on the BET smash hit "When Love Kills."
With Vaughn and Sigers-Beedles' "divine" working relationship, fans are expecting another hit with the upcoming Merry Wish-mas. And the movie is packed with talent, including Kim Fields ("Living Single," "Facts of Life,"), Towanda Braxton ("Braxton Family Values"), Elizabeth Omilami (Madea's Family Reunion) and Chrystale Wilson (The Player's Club) joining David and Tamela Mann in the film.
Vaughn and Sigers-Beedles talked about what makes their artistic relationship and friendship work so well and that also buoys them as thriving female directors and producers.
"Well, the challenges are always going to be there, so that's a given. I think that the blessing with us is that we lean on each other," Vaughn said. "I always tell people that we have this divine working relationship and friendship, because it does get challenging, it gets frustrating sometimes."
Sigers-Beedles said that working with a great team of women (and men) at TV One and BET has been invaluable.
"We actually have a great team of other women of color and that does help. We do a lot of work at TV One. There's just a dynamic team of women who let us be who we are," said Sigers-Beedles. "We come with packages, we come with stories, and we say, 'We really want to tell this story,' and we are met with open arms. And that does help when you have outlets who want to tell your story."
Be sure to check out Vaughn and Sigers-Beedles' next story, Merry Wish-mas, as told through Nina Holiday Entertainment, on TV One.