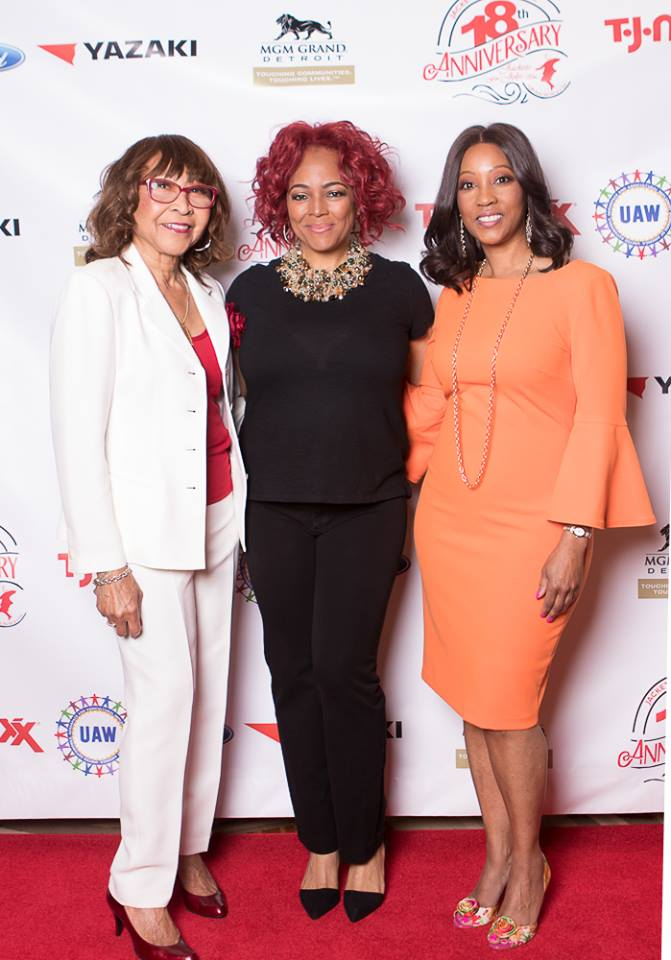 Helping people reach their full potential will never go out of style. Detroit's Jackets for Jobs celebrated their 18th anniversary with an inspiring ceremony, April 26, at the MGM Grand Casino. Founder Alison Vaughn was ecstatic about how the baby she birthed has grown. "In most states, the age of 18 is when you are officially and legally treated as an adult," she said. "So today, we celebrate 'adulthood.' Since opening its doors in 2000, we have stayed true to our mission of assisting over 24K job seekers with professional clothing, career skills training and employment etiquette." Highlighting the theme of "Speak the Truth," seasoned actress Kim Fields served as the keynote speaker.
The ceremony also featured giveaways, a fashion show from JFJ's main sponsor, TJ Maxx, and poignant testimonials from recipients of this phenomenal organization's efforts. Fields delivered an insightful speech, encouraging the audience to speak and live their own truths.
She also spoke exclusively with rolling out about several topics including her decision to support JFJ. "One of the things the Lord put on my heart to share is: before you can speak the truth, you have to speak your truth," she said. "You have to acknowledge those things in order to heal properly. The organization and the mission lined up with a great deal of what I'm about on my platform and being able to be a servant leader."
With the release of her autobiography, Blessed Life, last November, Fields revealed honest insight about her life and experiences in the industry. "My wonderful ghostwriter, Todd Gold, helped me tremendously with the process of getting my story to the page," she said.
Unlike countless other child stars, she has not fallen into the abyss of tragedy. "I wanted to make sure that I learned others parts of my craft, so I could always work," she said. "For me, it was also about the passion for the work. I go back to what motivated me. I didn't set out to be famous. I didn't set out to be a celebrity. When I'm not working as an actor, I'm directing or producing or exploring my entrepreneurial side."
She added, "Just because I'm blessed not to be a tragedy, does not mean my life has been without challenges, and tremendous speed bumps and potholes, black holes and chasms. I choose not to let them define me, but they are defining moments."
The Atlanta-based mother and wife, is now brewing a new venture. "My husband and I launched our own coffee line, earlier this year, called Kim Fields Signature Blends," she shared. "The same way I get into character or a script is the same way I get into coffee blends."
Speaking of scripts, with the revival of several TV shows from the past, many are wondering if a reboot of the '90s cult classic, "Living Single" is on the way.
"There's always a chance," she said. "Yvette Lee Bowser did such a tremendous job on creating that series and six of us together and blessing us to breathe life into those characters."
Fields insists she is nothing like the exteriors of her alter ego, the superficial Regine, in real life. A fact she made clear with her single-season appearance on "The Real Housewives of Atlanta," in 2015. Known for being, "insanely private," the announcement of her addition to the cast was met with intrigue and surprise. It was all a part of her strategy. "That's chapter 21 in the book, which is titled, #Truetomyself," she said. "The three times I was asked to join the party, I was never asked to fit in. I was never there to fit in. It was never for me to stay at the house, I was just visiting. That was part of the social adventure-experiment for them, as well as for me and my brand. Also, the fact that at that particular moment, I was celebrating 40 years in the industry and my mandate to my team was, 'let's go into uncharted waters. Let's do things that keep it interesting and creative.' "
The former "Dancing With the Stars" contestant possesses undeniable superpowers. She is confident, yet humble enough to know when to show vulnerability. "I have several superpowers. I feel like my ability to adjust in real time is a tremendous superpower," she said. "A  dear friend said to me once, 'The team that wins, is the team who can make adjustments in real time.'  I recognize that I am not perfect. I think most people should embrace that. My other superpower is embracing the concept of being limitless. Even if that's not my current truth, I will still speak it into existence. I'm not going to put a ceiling on my abilities because that's like putting a ceiling on God."
As her birthday approaches, Fields exudes a peace of mind born from maturity. She would tell her younger self, "… that everything's going to be OK. You're fine, you're enough," she said. "In terms of words of encouragement for others, the end of the book says, 'You win.' Plain and simple. It's not an easy race, but you win. If you have that understanding, you're equipped with that [knowledge that] not only do you finish, you finish strong."
Photo gallery courtesy of Jackets for Jobs