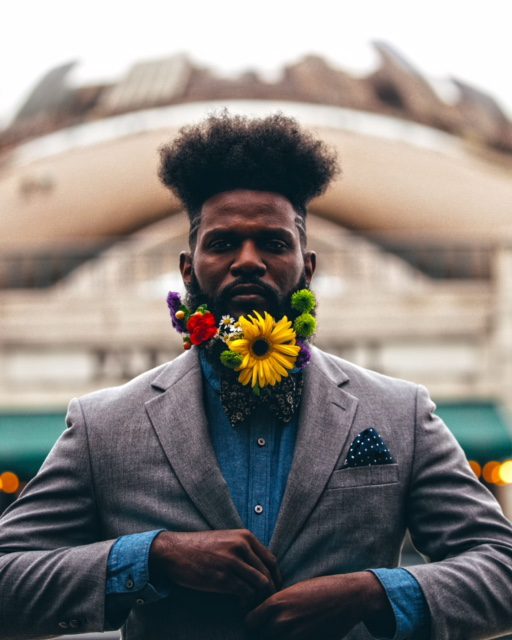 Brandon Alexander Williams, aka Real [email protected], is a prolific and talented artist from Chicago who has performed with legends like Big Boi of OutKast. His love of poetry inspired him to create the BLK Love Mixtape. We spoke to him about his artistry, his most recent book and why he feels Black love is important in these times.
What is the BLK Love Mixtape?
The BLK Love Mixtape is a collection of poems, songs and raps dedicated to uplifting the Black woman.
What inspired you to do something like this?
While preparing to DJ a women's appreciation event for Zeta Phi Beta, I noticed that there weren't a lot of songs that uplift Black women created by brothas, post 2000. Most of them contained messages that were specific to mothers and daughters; the remainder were overly sexual. I thought to myself, it's easy to write a song about your mother because she birthed you. It's easy to write a song about your daughter because she came from you. I wanted to gather a bunch of pieces that say "I love you, just because." No caveat. This is intentional art.
Many of us know you as Real [email protected] but you chose to do this project under your government name. Why?
I dropped the moniker Real [email protected] after my 32nd birthday, January 2018, and decided to go by my birth name. I began dabbling in comedy, really transforming as an artist, and my favorite comedians go by their real names, so I just killed the artist. It's just the man now. The man does it all.
What made you select specific poets and rappers for the project?
I selected brothas based on whom I've met while touring the US in the past decade performing poetry, rap, and DJing. I can vouch that like 95% of these are brothas that are solid. They are honorable. They are damn good performers, writers, singers, poets, fathers, sons … the list goes on.
The book reads as a love letter to Black women. Why do you feel this is necessary now?
I feel that this is overdue. My pops always told me, "Better late than never. Get err done." I simply wanted to spread love. I saw a void and filled it. I've never heard of a book written by 72 black men dedicated to uplifting Black women with an audiobook embedded into the pages via QR code, so I created it. I might have over answered, but that's why.
Which piece would you say encompasses the spirit of this written mixtape the most?
I'd have to say it's a four-way tie between "of African descent" by 13 of Nazareth, "Love" by Rodzilla, "For My…" by Malari SankofaWaters and "Black Women's Studies" by Brandon Alexander Williams.
What would you like people to know when they pick up this piece of art?
I want them to know that this book was created intentionally with love and it serves as a great gift for any occasion.
Link for the BLK love mixtape: https://www.theblklovemixtape.com/