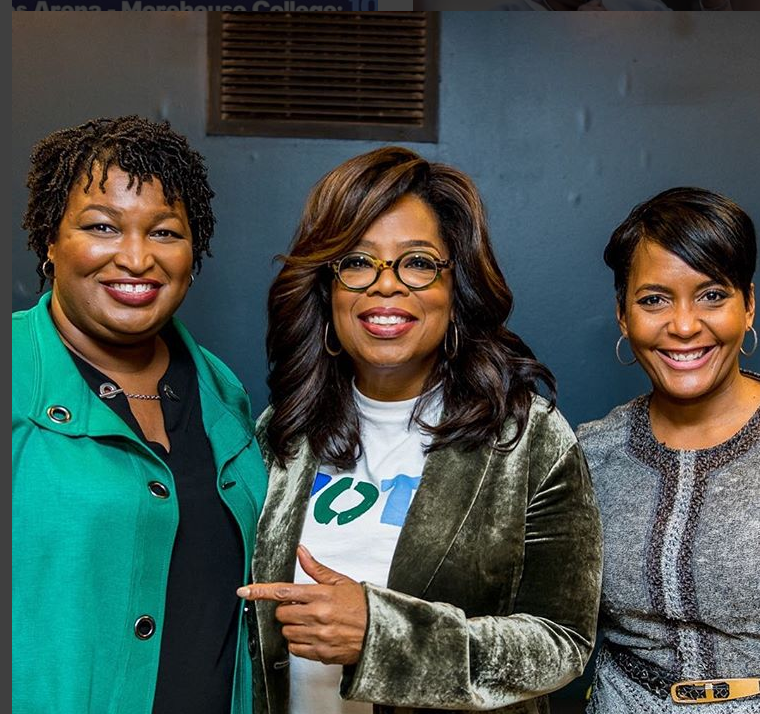 Democrats wrestled away control of the U.S. House of Representatives from Republicans and President Donald Trump during one of the greatest Election Day turnouts in modern American history.
As it turns out, however, there was no "blue wave" and overwhelming repudiation of Trump's divisive politics as political pundits and many candidates had hoped. Despite record numbers of Democrat and Independent voters at the polls in some key states, there was strong enough pushback from Republican and Trump supporters to retain GOP control of the U.S. Senate.
There were some key individual victories for women and minorities. Ayanna Pressley made history as Massachusetts' first Black woman elected to the U.S. House of Representatives. Pressley coasted through Tuesday's general election unopposed, after shocking 10-term incumbent Rep. Michael Capuano in the primary.
Unfortunately for minorities in America, the quest to make history with African American governors in the key states of Georgia, Florida and Maryland fell short.
In Florida, Democrat Andrew Gillum tried to become the first African American to be elected to the state's highest office but lost narrowly with 48 percent of the vote to Republican Rep. Ron DeSantis, who received 49 percent.
Former NAACP president Ben Jealous, a Democrat, also failed to make history with a gubernatorial win in Maryland, losing by a considerable margin to Republican Ben Hogan, 56 percent to 42 percent.
Former state Senator Stacey Abrams, D-Georgia, was poised to become be the first Black woman governor in American history, but Republican Brian Kemp boasted a significant lead over Abrams throughout the evening. As of 3 a.m. Wednesday, Nov. 7, Kemp's lead had narrowed to 51 percent compared to Abrams with 48 percent with 99 percent of votes counted, according to CNN. Abrams did not concede the election but instead vowed to wait until the last vote was counted after news reports of problems at several polling places had delayed the final vote tally.
There was good news for other candidates of color. Rep. Michelle Lujan Grisham made history as the first-ever Latina governor in New Mexico after she defeated Steve Pearce 55 percent to 44 percent.
Andria Tupola, however, fell short in her quest to become the first Native Hawaiian woman governor as a member of the GOP. Paulette Jordan is already the first Native American to become the Democratic Party's nominee for governor in Idaho, but she lost on Election Night to Republican Brad Little.
Regardless of the outcome of the midterm elections, history has already been made. According to the Center for American Women and Politics, a division of the Eagleton Institute of Politics at Rutgers University, new records have been set on the number of candidates of color who have secured nominations in local, county, state and federal offices. CAWP states that more women of color won nominations for U.S. House than in any other year in American history.
Remarkably, 80 women of color secured nominations in U.S. House races. The previous record, CAWP says, was set in 2016 with 55. Both major parties (Democrats and Republicans) have surpassed previous records. In 2018, the Democrats nominated 65 women of color. The previous record for Republicans, also set in 2016, was 13. That number is now 15.
Women of color are "34.2 percent of all women nominees, 35.7 percent of Democratic women nominees, and 28.8 percent of Republican women nominees," CAWP states on its website.
"These are important breakthroughs,"  CAWP director Debbie Walsh told USA Today. "It opens up a world of possibilities to women and people of color who will follow in their footsteps."
Walsh added that minorities and women "bring different voices, different perspectives, different life experiences … to the making of public policy."
Overall, 468 Black women candidates were running for office in 2018 in the U.S., according to BlackWomenInPolitics.com.
As they said in the olden days, "a change is a coming," whether the status quo is ready for it or not.