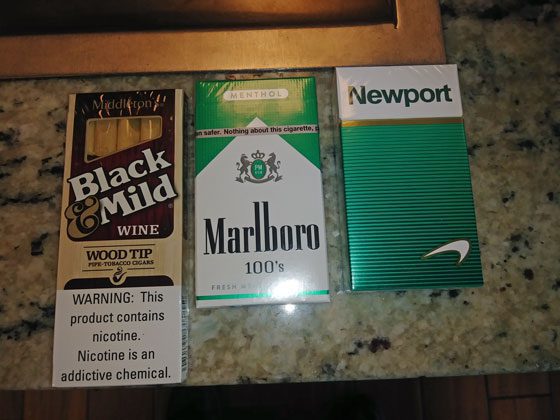 If you are a smoker and enjoy menthol cigarettes, Black and Mild flavored cigars or even flavored vape juices, your smokes may soon be out of reach. Dr. Scott Gottlieb, director of the FDA, issued an announcement that calls for the restriction and ultimate ban of these products out of increased health concerns.
According to the CDC, Blacks are the biggest consumers of menthol cigarettes, which have been linked to a host of health conditions. But there is a reason for this preference of menthol brands like, Newport, Kool and others, tobacco companies specifically marketed to the Black community. According to NPR, after World War II tobacco companies noticed that White smokers' use of menthol products was around 3 percent, while use by Black smokers was 5 percent. Seeing this difference as a potential market, these companies set ad campaigns and marketing tactics to the Black community. Black magazines like Jet, Ebony and others accepted this cash stream as brands like Kool sponsored music festivals that appealed to Black culture. According to the NAACP's Youth Against Menthol Campaign, the tobacco industry "intentionally markets to youth and African American communities to attract new 'replacement' smokers and keep current smokers addicted."
Another popular product that is heavily marketed to the Black community is flavored cigars. These brands include Black & Mild and White Owl and have flavors that include vanilla, grape and wine. Because these cigars, or cigarillos, are made with pipe tobacco they are not meant to be inhaled deeply into the lungs. However, smokers of these products like the buzz with inhalation and wind up doing damage to their lungs. These products are also cheaper to purchase in the Black community as a whole.
Because of the increase in teens using flavored e-cigarettes and vaping, the government is also targeting the "vape juice" used in these products. Companies have produced what are deemed kid-friendly flavors of vape juice that include cherry, tropical fruit, vanilla and others. The FDA  proposes that stores must have a closed-off section that is forbidden for minors to enter or purchase these products.
In the FDA press release, Gottlieb states, "The data show that kids using e-cigarettes are going to be more likely to try combustible cigarettes later. This is a large pool of future risk. … The data make unmistakably clear that, if we're to break the cycle of addiction to nicotine, preventing youth initiation on nicotine is a paramount imperative."