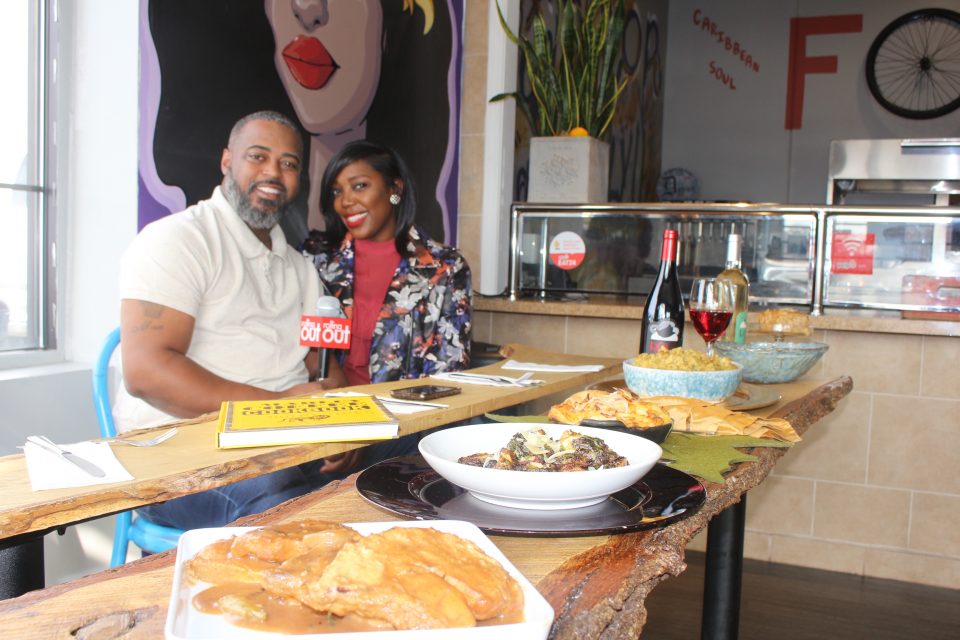 Celebrity master chef Maxcel Hardy is cooking up delectable cuisine for the holidays. He's a celebrity chef, restaurateur, philanthropist, cookbook author, culinary instructor, principal at the Hardy Hospitality Group and a hardworking father who desires to enhance the culinary industry in Detroit.
He's cooked for professional athletes — both men and women, (Serena Williams was one of them), iconic entertainers, music geniuses from various genres, and even an actual Prince in Dubai.
Rolling out had the pleasure of chopping it up with Chef Max, as he's affectionately called. We spoke about his Thanksgiving dinner twist that he prepared especially for us, his cookbooks and more.
Describe your take on Thanksgiving Dinner.
Traditionally, when we sit down for Thanksgiving dinner we have to have this feast of turkey, stuffing and have this huge dinner, which is great. I'm not taking anything from that. But, I like to do something very simple and clean. I'm not too big or too serious about anything in life.
The kale is very light and refreshing. People think you have to cook it down for 120 hours [but you don't]. I did the stuffing, but I added a little shrimp and oysters to it. We also have a little mac-and-cheese. I love the shell noodles versus the elbow noodles that [are] used with standard mac-and-cheese. Then I go with a bechamel, versus how your mom makes it in a big pan where she cuts the cheese into squares. Then with the Brussel sprouts, they're very fun. I take some ingredients you wouldn't think [would] go well together: Brussel sprouts, Parmesan, syrup, garlic, bacon and ginger. All that mixes well to me. Then with the turkey: I get so many texts, emails, messages around Thanksgiving time asking how long they should cook their turkey or what they should do to cook it and if they should put it in a bag, should we do this, should we do that? Hey, just make some turkey chops and then be done with it. Quick, fast, simple, and it's one of those things you don't think about. Especially if you're a white-meat type of person, you might as well do turkey breasts anyway. Then we smother them with onions and scallions, a little wine and a little roux.
What cooking skill level do you have to have to pull something like this off?
Not much. Like with the stuffing, you can make a pan of cornbread, add some celery, add some onions, add some garlic, and some chicken stock. So, that's fairly easy. With the mac-and-cheese, you have to have some type of understanding of cooking to pull it off, but not much. If you didn't want to make a roux, then you simply use a lot of cheese, heavy cream and butter.
Where can we find these recipes?
Inside both of my cookbooks. The Marley Coffee Cookbook has the Brussel sprouts recipe in there. Cooking with Amar'e has all of this in there. We have tons of recipes online as well. The books can be found on Amazon or Barnes & Nobles, and you can also find them at both of the restaurant websites.
Tell us about your cookbooks.
The first one was named Cooking with Amar'e: 100 recipes for Pros and Rookies. It gives you a basketball kind of feel. The easy recipe is called the "Layup," the hard recipe is called "Three-point shot," so we played on that. It's a very fun book.
NBA player Amar'e Stoudemire wanted to learn how to cook, so I said we might as well document this. We filmed for almost two years, then the book came about.
The Marley Coffee Cookbook with Rohan Marley, Bob Marley's son, is one of those things I'm really proud of. Hopefully, we'll put another one out in about a year or so.
What's your signature spice or flavor that you love to cook with?
I use cilantro a lot. That's one of my favorite ingredients. Scotch bonnet peppers are probably the spice that I like. It's similar to habanero.
Who are some of the celebrities you've cooked for?
You name them, I've pretty much touched them. Missy Elliot, T.I., Jada Kiss, the whole Cash Money Crew, Serena Williams. Serena was cool. I actually sent a chef out to her in Cali for about a year. Chef Felecia from LA was her chef. [I've also cooked for] the Prince of Dubai, I was his chef for about three years. I cooked for Jeezy and the CEO of Walmart and a lot more.
Where can readers find you on social media?
Chef Max Hardy everywhere.
Photo Gallery Credit: David Rudolph except where noted otherwise