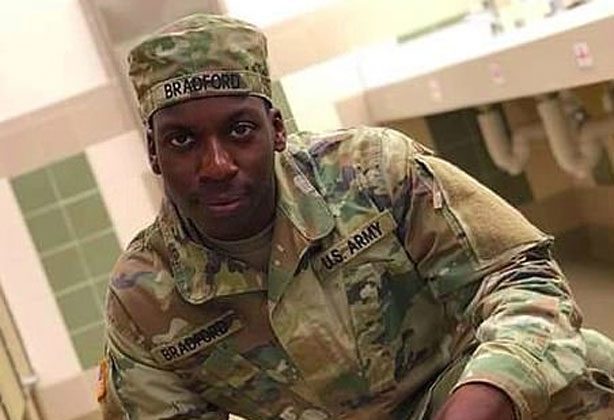 The anti-gun control solution that a "good guy" with a gun can stop a mass shooter falls apart when that good guy is a Black man. By all accounts, Emantic Fitzgerald Bradford Jr., 21, was that good guy who tried to help at the Riverchase Mall when he pulled his US Army issued sidearm as a man started shooting during the beginning of the Black Friday shopping season. Bradford was not part of the fight that started the chaos but police saw a Black man with a gun and shot him dead, while the real shooter fled the scene in Hoover, Alabama.
Bradford was an active duty US Army combat engineer and the son of a Birmingham police officer, and now his family is outraged. When the shooting was first reported, police identified Bradford as the shooter to media outlets, an action his father Emantic "EJ" Bradford Sr. found hurtful to the family. He stated to the Associated Press during an interview, "They were so quick to rush to judgment. I knew my son didn't do that. People rushed to judgment. They shouldn't have done that."
The Hoover Police Department has already begun to create its own spin on the shooting. Hoover Police Capt. Gregg Rector said that while Bradford was not the shooter who injured an 18-year-old man and a 12-year-old girl, at this time they believe he was somehow involved in the altercation that led up to the shooting. An assessment that Bradford's family strongly protests.  The family has retained noted civil rights attorney Benjamin Crump and he stated at a press conference on Sunday, Nov. 25, 2018, "Not only did they assassinate this person but they truly assassinated his character… [The officer] saw a Black man with a gun and he made his determination that [Bradford] must be a criminal."
Crump went on to state that witnesses have told him that police did not issue a verbal command before shooting Bradford in the face. He is now demanding that police and the mall release all video footage from the event, including police body cam and mall CCTV recordings. At this time, the officer who shot Bradford has not been identified and is currently on administrative leave while the shooting is investigated by the Hoover police. The actual shooter at the mall escaped and is currently at large; police have not stated if they have a lead on the suspect's identity.