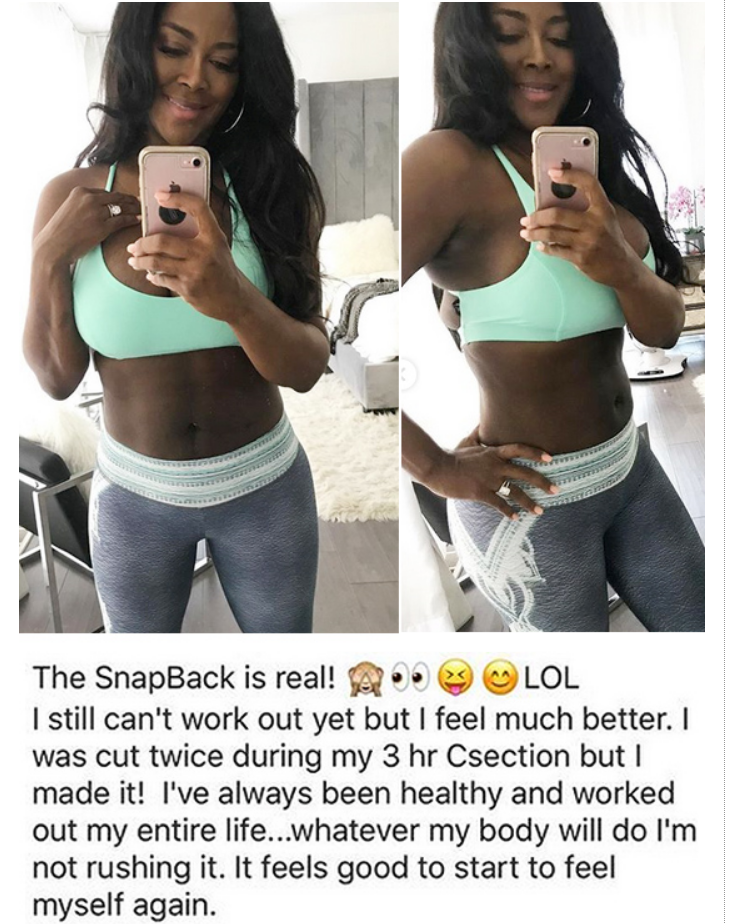 Former "Real Housewives of Atlanta" star Kenya Moore got her original body back … and with a quickness.
Moore, a first-time mother at 47, posted photos of her nearly flawless "snapback" abs after giving birth to her daughter via C-section.
These photos were posted by Moore just three weeks after bringing daughter Brooklyn Doris into the world with husband Marc Daly, a New York-based restaurateur.
In a gallery of shots on her Instagram page on Tuesday, Moore stunted her physique while posing in a mint-green sports bra and gray workout pants and captioning the photo with this sassy sentence: "The SnapBack is real!"
"I still can't work out yet but I feel much better," Moore added on Instagram. "I've always been healthy and worked out my entire life … whatever my body will do I'm not rushing it. It feels good to start to feel myself again."
Kenya first shared her pregnancy news back in April during the "Real Housewives of Atlanta: Reunion Part 1," telling host Andy Cohen, "We will definitely be welcoming a boy or girl in late this year."
As rolling out reported previously, Moore revealed she was suffering from preeclampsia, which caused her to gain 17 pounds as well as swelling in her feet. Eventually, she was forced to deliver the baby three weeks earlier than the Thanksgiving due date she had originally been given.
"Staying positive," she wrote to her fans on IG at the time. "To my pregnant sisters please go to your visits and tell the doctor of any drastic changes. Thank God I have great doctors."
Days later, Moore showed off her baby's arrival on social media. "She's so perfect and strong!" Kenya told her millions of followers. "Marc was incredible in the deliver room. I lost a lot of blood so I'm very weak but they both were strong for me."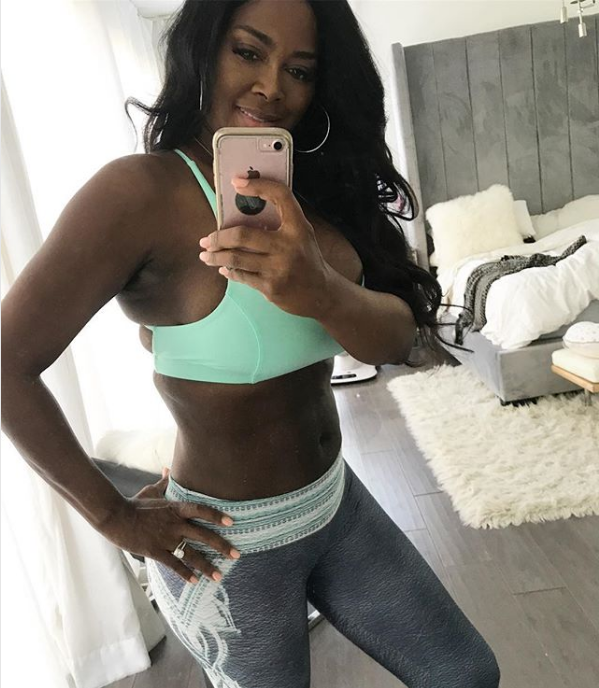 Kenya Moore. Photo: Instagram/@thekenyamoore
Moore's snapback game is so spectacular that some fans are accusing her of getting a tummy tuck.
Moore let some of those fans know that she has the time today, and she quickly checked them in the comments section.
"No plastic surgery, no tummy tuck," she said. "No surgeon would perform a tummy tuck on a woman three weeks after birth. Just stop it."
Moore added that her doctor gave her a compression belt to help return her belly region to its original form quicker than it would have on its own. Moore said she also breastfeeds Baby Daly, which she said is "300-700 calories a day" that she gives away to her daughter.