Hardcore Erykah Badu fans began riddling the eccentric soul singer with hate in Chicago after she went on a long soliloquy defending R. Kelly during her concert.
The Independent reports that a person tweeted that Badu "tried to justify and defend R. Kelly's actions and reputation during her set."
Another fan tweeted that Badu "said that she is praying for him and hopes that he gets help," referring to Kelly. But that person didn't believe Badu was "trying to justify or condone his actions."
According to one attendee, this is what Badu said to the crowd:
https://twitter.com/boyDonavin/status/1086837463832776704?ref_src=twsrc%5Etfw%7Ctwcamp%5Etweetembed%7Ctwterm%5E1086837463832776704&ref_url=https%3A%2F%2Fbossip.com%2F1694924%2Fhave-a-window-seat-erykah-badu-gets-booed-after-going-on-on-about-her-love-for-r-kelly-during-chicago-show%2F
Another fan felt some kind of way about Badu's support for R. Kelly and unloaded on the singer.
"Erykah Badu came to Chicago and told us all she finna love R Kelly anyway & we can keep our opinion to ourselves. Mad disrespectful to our city and a s—-y use of her platform. Crusty a– b—-. (sic)"
The Independent is sure that Badu, 47, was referencing the plethora of allegations against R. Kelly when she responded to a fan's Instagram comment the other day.
"I loved you until I realized you support a rapist and pedophile as your brother," the person wrote on Badu's Instagram post.
"Correction: Love has very little to do with supporting others' bad choices. Love is wisdom," Badu wrote back on IG. The singer also reportedly declined to appear in Lifetime's "Surviving R. Kelly" docuseries.
Badu tried making people at the concert see her point of view about the "Your Body's Calling" singer, but to little avail. Almost as soon as she mentioned R. Kelly's name, the crowd started booing, the newspaper reports.
Badu has been taking a beating on social media ever since. Below is a sampling of how irate she made some people.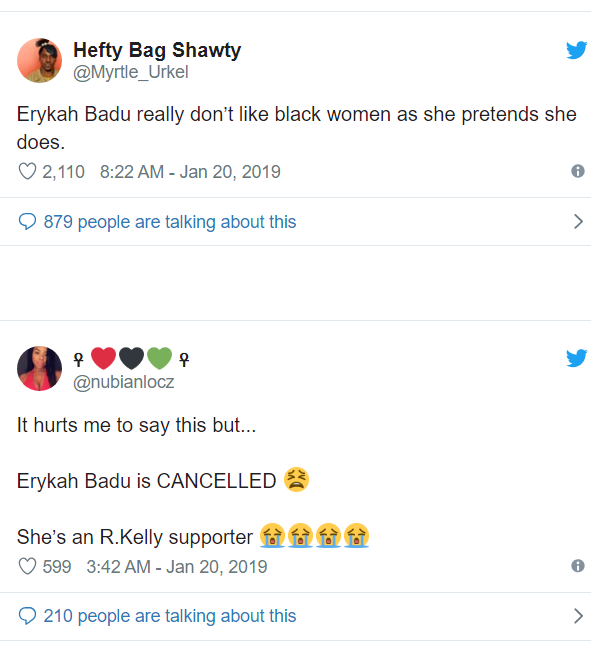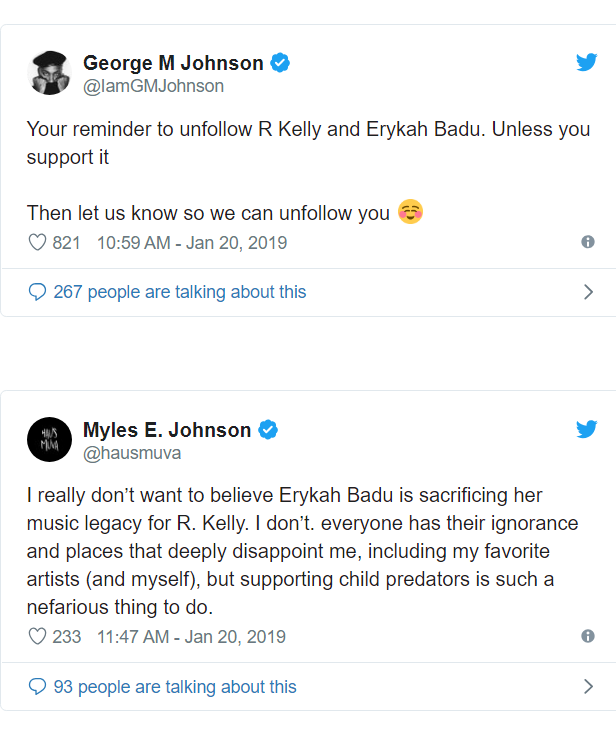 https://twitter.com/Oprah_Gucci/status/1086837815491641344?ref_src=twsrc%5Etfw%7Ctwcamp%5Etweetembed%7Ctwterm%5E1086837815491641344&ref_url=https%3A%2F%2Fbossip.com%2F1694924%2Fhave-a-window-seat-erykah-badu-gets-booed-after-going-on-on-about-her-love-for-r-kelly-during-chicago-show%2F
Hope R. Kelly was worth Erykah Badu's career. Don't bring you ass back to Detroit with all those tired ass songs. We don't want you no more 🤷🏾‍♀️.

— i got edges, they just look bald (@majistiii) January 20, 2019
So, I'm just going to say it…

Maybe folks need to reconsider a certain hosting gig Erykah has held for years.

To have the audacity to say that at A SHOW in CHICAGO. A city that has been terrorized by that man. She shouldn't be hosting anything for Black folks. Sorry. pic.twitter.com/Kbdhd1OhYZ

— Mr. Nasty (@KirkWrites79) January 20, 2019