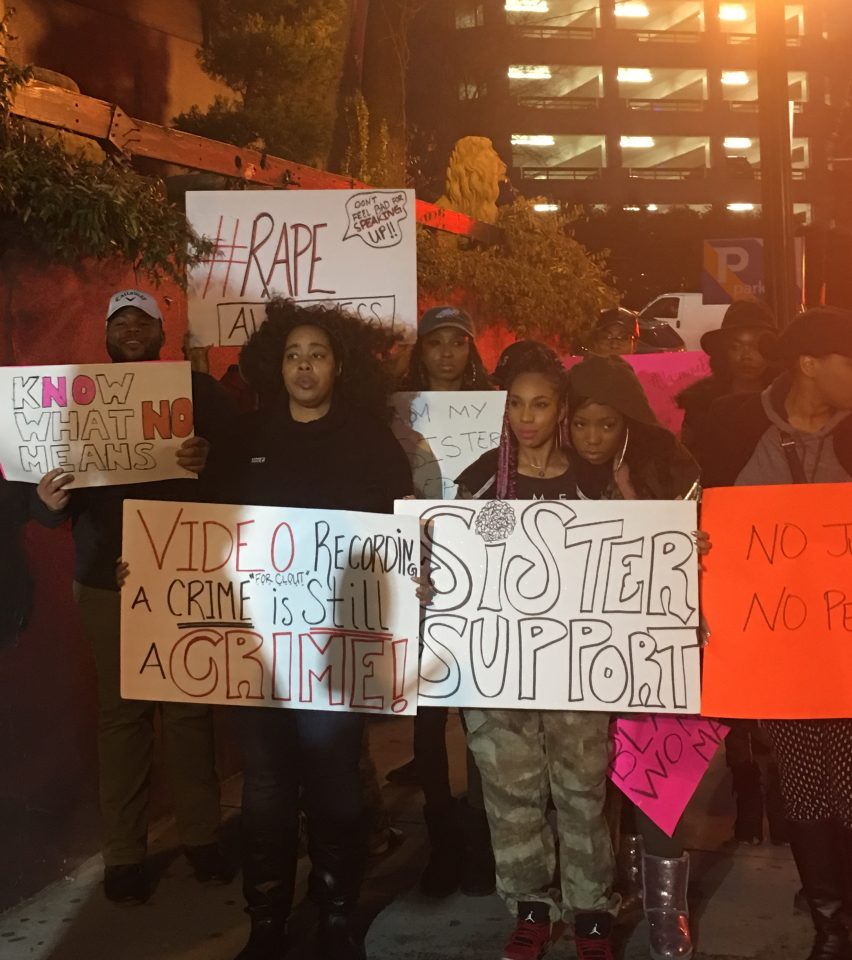 Three dozen vigilant Black women protested for a second consecutive night outside Opera nightclub in Midtown Atlanta, unwilling to let the alleged rape of another Black woman viewed by thousands on Facebook Live go unpunished.
Rally organizer Sabrina Peterson, owner of Glam University, said she stands firmly on the side of the alleged victim and the protests "will not let up until she receives justice" and the perpetrator is apprehended.
The protesters gathered on Wednesday night, Jan. 23, 2019, outside the establishment where the young woman was allegedly drugged with a drink and sexually assaulted on the dance floor of the club.
Rolling out broke the story of the attack that was streamed live on the Facebook  page of the alleged victim. In the video, she appeared to be assaulted by a man who stood behind her.
For about two hours, the protesters stood huddled together in a circle outside the club on Crescent Avenue. Some were carrying infants in their arms. Others raised signs in the air, decrying the dehumanizing treatment Black women face and calling for greater protection of victims of sexual assault.
Their protest and outrage come at a time when women are fed up with and speaking out increasingly against the men who would abuse, rape and treat them as second-class citizens — and the culture that looks the other way or shames the victims.
Protester Goldyn P. Smith of Atlanta said she feels that the managers and owners of Opera nightclub should be "held accountable for not protecting the young lady."
She added: "I feel that Opera has a responsibility to all of the patrons of their establishment. There needs to more than enough security, and there need to be resources inside of the venue that will allow anyone who has been victimized to come forward and to report the incident. I feel that they not only have a duty to the patrons but also to the city of Atlanta and all of their customers."
Naomi Glay, a Kansas City, Missouri, native who has lived in Atlanta since 2013, said it was important for her to join the growing movement as a survivor of sexual abuse. Glay, who is of Liberian descent and the 2018 Miss Liberia USA titleholder, said her platform has involved raising awareness for women and children who are survivors of domestic abuse.
Glay said watching the Facebook Live video "was very hard and very difficult. It triggered something within myself. It reminded me that there are people that are hurting, and I don't want anyone else to hurt. I wanted to use my platform to be a voice for those who can't be a voice for themselves."
Protester Racquel S. Ferrell, 31, of Atlanta, held up a green neon-colored sign that read, "I AM MY SISTER'S KEEPER!!" Ferrell said she came to Wednesday night's rally to stand in solidarity with other Black women.
"I could have easily been [her]," she said. "That night, Jan. 19, I was celebrating my birthday as well here in Atlanta. I came out [to the protest] because I could have been [her], my sister could have been [her], my friends, my cousins, the girl at the grocery store that I talk to every day at Publix could have easily been [her]," she said. "I came out to support us Black women, us young women, to let people know that it's no right to think you can take from us, to touch us because of what we have on. It's not right."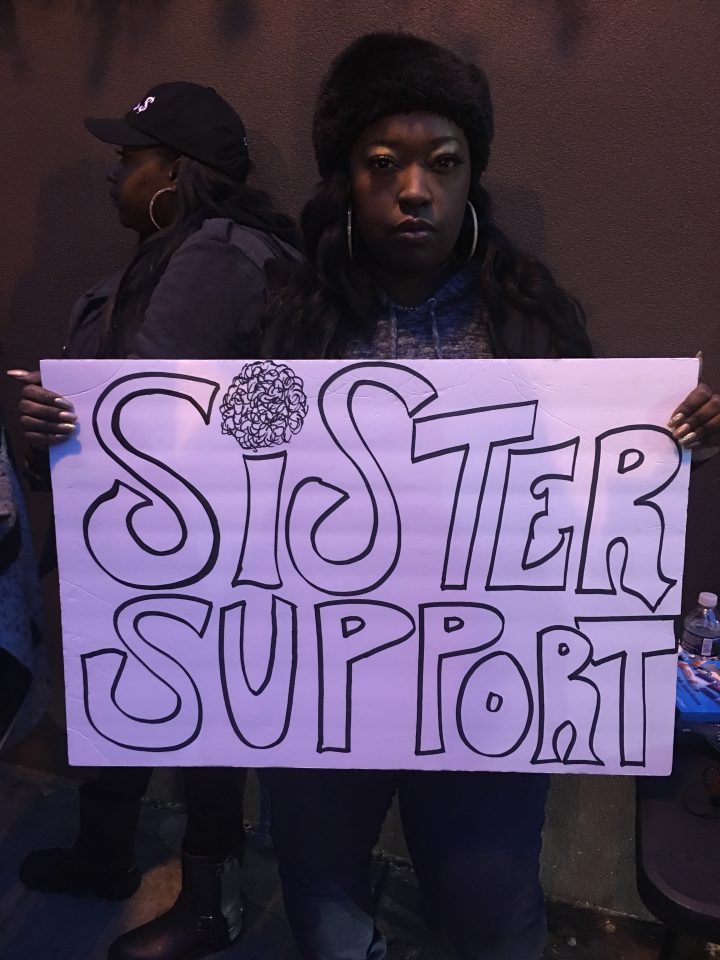 –dejanee callahan and angela robinson