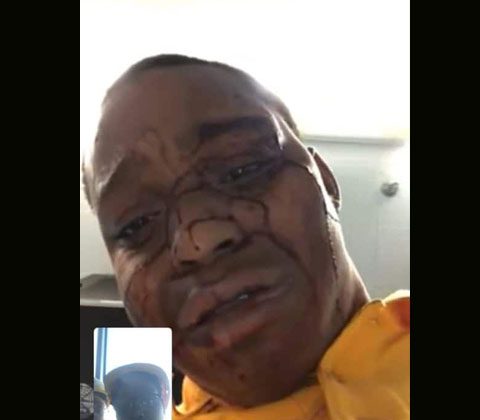 Students at a Louisiana high school are furious and want answers after a school resource officer's violent takedown of a student. The incident happened at L.W. Higgins High School in Marrero, Louisiana, on Thursday, Jan. 24, 2019. Jami Coston, 18, was confronted by a teacher who claimed that he smelled like cigarettes in the classroom. The teacher requested a school resource officer to search him and things quickly went south.
According to WWL-TV, a Jefferson Parish Sheriff's deputy was called for a classroom disturbance. Coston was described as "abusive and profane" by the deputy. Witnesses state that Coston took off his jacket and yelled, oh b—-  you wanna fight?" That's when the deputy grappled with Coston and slammed him to the ground.
According to JPSO Captain Jason Rivarde, "Fearing that Coston was preparing to attack him, the deputy directed Coston to submit to handcuffing. Coston refused. The deputy then escorted him into a position on the ground to handcuff him."
Rivarde further stated that Coston continued to resist and got into another scuffle with the deputy in the school's office. According to Rivarde, the deputy again escorted Coston to the ground and student's face was cut near his left eye.
As students gathered to witness the event, the officer forcefully slammed Coston to the ground, which was also captured by the school's CCTV. The officer then takes Coston to another room that has no monitoring and students then claim that Jami was beaten. Multiple witnesses have stated that they heard Coston screaming for help and heard what sounded like someone being hit behind the closed doors. When Coston later emerged blood was dripping from a bruised and battered face. He was able to Facetime his mother after the assault and she was horrified.
Coston was taken to the Jefferson Parish Jail and booked on charges of interfering with an educational facility, battery of a police officer and resisting an officer. His mother, Dasuqua Coston, told WWL-TV: "I've never seen a face dripping like that. It looked like it was coming mostly from his eye. His lip looks busted. His eye is bust[ed], blood is leaked all over his school shirt … leaking everywhere."
Jami Coston was set to graduate in May 2019, and now that graduation may be in jeopardy. According to his family, the school is trying to expel Jami and they are planning a lawsuit. A video has been posted to Facebook which can be viewed below.
https://www.facebook.com/rethinknola/videos/403537233552283/